This Tweet Just Cost Chipotle $300 Million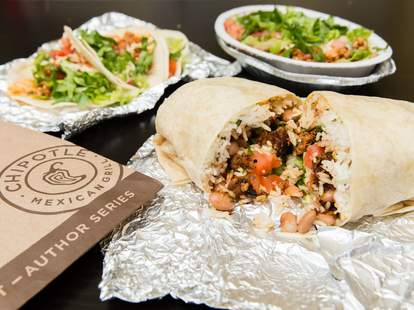 With the release of a new animated short film taking aim at the fast food industry, Chipotle appeared to be riding high on its comeback campaign this week. But all of that changed on Thursday morning, apparently thanks to a single tweet from the novelist behind the recent 'Bourne' novels. Really.
Eric Van Lustbader, author of The Bourne Enigma (which continues Robert Ludlum's Jason Bourne story), may have singlehandedly caused the embattled burrito company's stock to plunge by as much as 3.4% in early-morning trading with a tweet claiming his editor was hospitalized after eating at a Chipotle in Manhattan, according to a report by CNBC.
This Chipotle thing is still ongoing. My editor ended up in urgent care after being deathly ill all night from eating at Chipotle's.

— Eric Van Lustbader (@EVanLustbader) July 7, 2016
The stock's decline effectively erased as much as $300 million from Chipotle's market capitalization ($11.7 billion with its $401.05 closing price on Wednesday to $11.4 billion with its $390.78 closing price on Thursday), kind of like that time when Tesla CEO Elon Musk's tweet shaved more than half a billion dollars off Samsung's market capitalization. CNBC went so far as dubbing Van Lustbader's tweet as the "Bourne Indigestion." Slow clap.
As for the food-borne illness allegation itself, Chipotle spokesperson Chris Arnold told Eater the company hasn't received any reports of illness connected to its restaurants in NYC:
"We are aware of the post made on Twitter, however there have been no reports of illnesses at any of our New York restaurants," he said. "Moreover, we have excellent health department scores throughout the city, and we continue to have the highest standards of food safety in our restaurants."
By the time the markets closed on Thursday, Chipotle was still down $10.27 (2.56%), suggesting the company's comeback is even vulnerable to unconfirmed reports of illness connected to its restaurants. A norovirus scare that temporarily shuttered a Massachusetts Chipotle back in March also damaged the company's attempts to lure customers back to its restaurants after a series of devastating food-borne illness incidents sickened more than 50 people last year. Chipotle's same-store sales dropped almost 30% in the first quarter of this year. 
Van Lustbader posted a series of additional tweets defending himself after other users accused him of attempting to influence Chipotle's stock:
@scotttweetsnow I haven't accused anybody of anything. Just reporting abt my editor who is home now, very weak after spending 7 hrs in ER...

— Eric Van Lustbader (@EVanLustbader) July 7, 2016
Hey let's get all this Chipotle thing straight. I am just worried abt by friend's health. Period. Just reported what she told me....

— Eric Van Lustbader (@EVanLustbader) July 7, 2016
I will no longer answer abt the incident. I tweeted because I was worried that my friend got so sick.Didn't want it to happen to anyone else

— Eric Van Lustbader (@EVanLustbader) July 7, 2016
To put the ugliness to rest I am actually long Chipotle in an account not managed by me. The one time I ate at a Chipotle's I enjoyed it.

— Eric Van Lustbader (@EVanLustbader) July 7, 2016
At least one other person (their tweets have since been set to private) responded to Van Lustbader's tweet, claiming they too had become sick after eating at a Chipotle restaurant in Manhattan, but that incident, too, has yet to be confirmed. We reached out to the New York City Department of Health to see if city officials have received reports of any Chipotle-related illness incidents. 
Sign up here for our daily Thrillist email, and get your fix of the best in food/drink/fun.
Tony Merevick is Cities News Editor at Thrillist and enjoyed the crap out of a chorizo burrito during a recent visit to a Chipotle in Manhattan. Send news tips to news@thrillist.com and follow him on Twitter @tonymerevick.