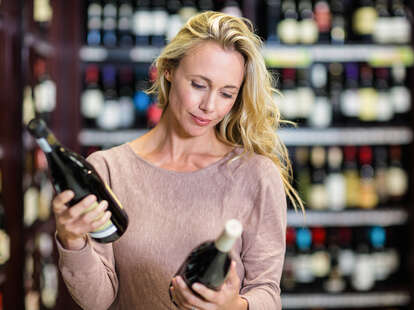 When shopping for wine, you base your decision on color, body, region, and your culinary vision for dinner that night. HA! Just kidding. You choose your bottle of wine based on which one has the coolest label, plus price.
According to a survey by Wine.net that questioned 2,000 wine drinkers, 82% of respondents said they choose wine based on the appearance of the label. And the second most important factor that attracted 65% of respondents? Perceived price. Score one for the humble $2 wine drinkers. Those guys who talk about "full-bodied wines" are apparently a dying breed.
To come to this conclusion, the study authors had respondents evaluate three bottles of red wine and three bottles of white wine, and asked them to choose their favorites. Participants were then asked which factors contributed to their decisions. Appearance and perceived price emerged as the top elements considered, followed by wine region and shape/color of bottle.
Main takeaway: Wine drinkers everywhere are just like you.
Sign up here for our daily Thrillist email, and get your fix of the best in food/drink/fun.
Kara King is a News Writer at Thrillist and always goes for crazy labels. Send news tips to news@thrillist.com and follow her at @karatillie.