Why You Should Always End Flirty Messages With an Exclamation Point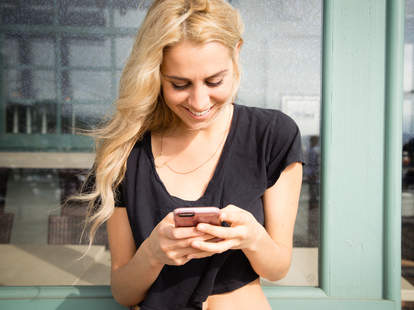 "You're beautiful!" beats "you're beautiful" any day. In fact, a recent study found that messages ending with exclamation points see higher response rates.
Zoosk.com, a popular dating site, released stats from a recent survey that show just how important grammar is when messaging a potential date. The survey of Zoosk users, which received 9,441 respondents, found that when messaging a potential date for the first time, you're 10% more likely to get a response if you end your message with an exclamation point. Got it!!  The acronym LOL also showed a high response rate (+25%). Guess excitedly laughing out loud is the way to go. 
In general, the survey found that grammar and spelling are incredibly important to singles. 48% of singles said that bad grammar is a deal breaker and 72% of singles said they're turned off by spelling errors. Well then, spelling bee champions must be great with the ladies. 
Go ahead and thank your junior high English teacher for your impeccable grammar, and then show off those skills. Don't forget the exclamation point at the end!
Sign up here for our daily Thrillist email, and get your fix of the best in food/drink/fun.
Kara King is a News Writer at Thrillist and will end every sentence with an exclamation point! Send news tips to news@thrillist.com and follow her at @karatillie!