12 Tons of Pepperoni and Sausage for Pizzas Has Been Recalled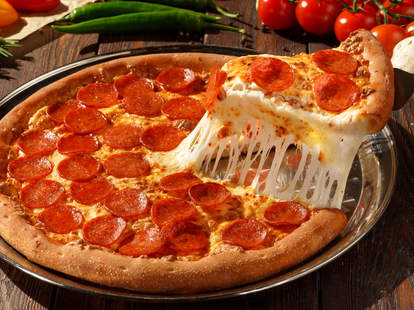 As the Wu-Tang Clan famously said, "pizza rules everything around me." Err, uh, something like that.
Pizza is everywhere, including, quite possibly, your stomach right now. So, it's worth checking if any of the toppings you've got in the fridge are part of a recall on sausage and pepperoni made specifically for pizzas. The Columbus, Ohio-based Ezzo Sausage Company is recalling 25,115 pounds of sausage products following a test that confirmed the presence of Listeria monocytogenes, according to the US Department of Agriculture's Food and Safety Inspection Service (FSIS). 
"FSIS is concerned that some product may be in distribution centers, restaurants, or institutional refrigerators or freezers. Restaurants and institutions that have purchased these products are urged not to serve them," the notice reads.
The recall includes 15 ready-to-eat products produced on October 29-30 and November 5. The full product list provides a glimpse of what you should be looking for. The FSIS recall does not provide information on where the products have been distributed, but Ezzo says the products were marked for distribution in Indiana and Ohio, per Food Safety News. 
Fortunately, there are not any confirmed cases of illness at the moment. The recall is based solely on product testing. If you've got these products at home or in your restaurant, you're urged not to use them and to return them to the point of purchase. Though, that should be obvious, right? Pepperoni is delicious, but you shouldn't risk getting sick just because you have a serious craving for a pepperoni pizza.
Sign up here for our daily Thrillist email and subscribe here for our YouTube channel to get your fix of the best in food/drink/fun.