If you've been on Facebook in the past 6 months (likely, since you're here), you've witnessed the onslaught of Facebook Live, the social media behemoth's newest push toward taking over your life. Celebrities and publishers alike have adopted the technology -- Mark Zuckerberg really wants it to be a thing -- in part because it rewards users by increasing their audience reach. Facebook Live is the new recipe video rising tide of the platform's algorithm.
But with the new tech comes a stark reality: most Facebook Live video sucks. You'll be scrolling through your feed, and suddenly, you see a half-second of some guy talking about a thing you don't care about because you hovered too long. The successful videos have mostly been gimmicky -- look toward Buzzfeed's watermelon-exploding stunt -- but those are rare. Mostly, it's exhibitionist nobodies, or somebodies without great ideas on what to do live.
Well, now, at least, they're all in one place.
Recommended Video
This Exhilarating Ride Takes You on a Mountain Adventure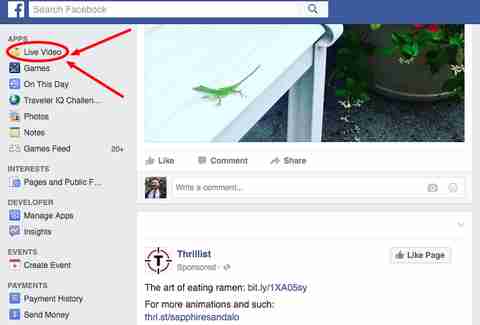 If you check out the right side bar of your Facebook page, under "Apps,"  you'll see a new entry topping the list: Live Video. Click the words and you bring up this handy-dandy map.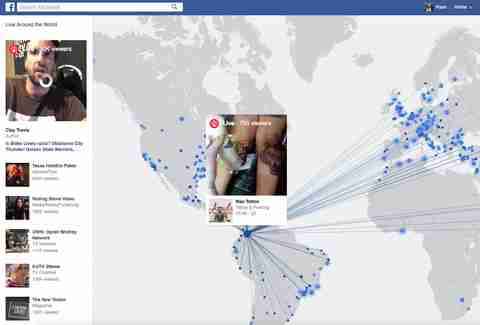 As you begin your magical journey, you'll see a main video lodged in the top-left corner of your screen, resting above a handful of other video thumbnails. They're more a distraction than the main show here.
The true star is the map, of course. Various hotspots around the world show who's live and where, and hovering over will bring up that live feed, along with information on how many live viewers a video currently has and lines connecting them from wherever they are around the globe.
If you've ever wanted to watch someone get a tattoo in Colombia, or hear a woman in Madagascar answer random questions, or watch the New York Times fiddle around with some stilted thing, all as it happens, well, now there's a map for you.
The worst new development (short of whenever Facebook Snuff Live finally happens), of course, is the proliferation of people using Live while driving. Whether cell phones are the new dashcams or not is hard to say at this point. But nobody watches dashcam videos after the fact because good things happened.
If you're thinking of using Facebook Live while driving: please don't, even if you do deserve a Darwin Award.
In the end, the new map is a neat tool that makes perusing live events around the world more accessible. It'll kill your processor and gum up your desktop while it's running, but for the next major geopolitical events, (think Tahrir Square), or huge sporting events happen (Super Bowl, NBA finals), you can be there, for anything, as long as someone has a phone and an Internet connection. Which is pretty cool to think about.
Also, pretty frightening, too.
Sign up here for our daily Thrillist email, and get your fix of the best in food/drink/fun.
Ryan Craggs is Thrillist's Senior News Editor. He would like to spend less time on Facebook, but knows it's professionally impossible. Follow him @ryanrcraggs.