You've seen it: you open up Facebook on your computer or phone, only to see a friend's relationship status change: Gwen Stefani went from being "married" to "it's complicated with Blake Shelton," or any of the various permutations of coupling the social media giant offers. But when it goes from "being in a relationship" to "single," well, you likely cringe -- and it's only worse for at least one of the people involved.
Facebook's finally doing something about that.
According to a new post on Facebook's blog titled "Improving the Experience When Relationships End" by Product Manager Kelly Winters, the ubiquitous social media platform is testing out new options for when people change their relationship statuses -- a welcome modification, as the previous way to avoid an ex online was either deleting them manually and blocking them entirely, or just quitting Facebook cold turkey. Facebook probably doesn't want you doing that latter one.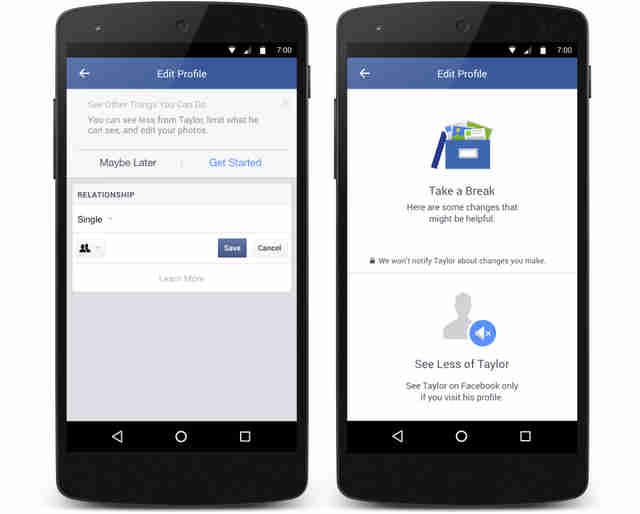 The post goes on to explain that your ex's posts won't show up in your feed, you won't be prompted to tag them, and you can limit how much of your new stuff shows up in his/her feed, too.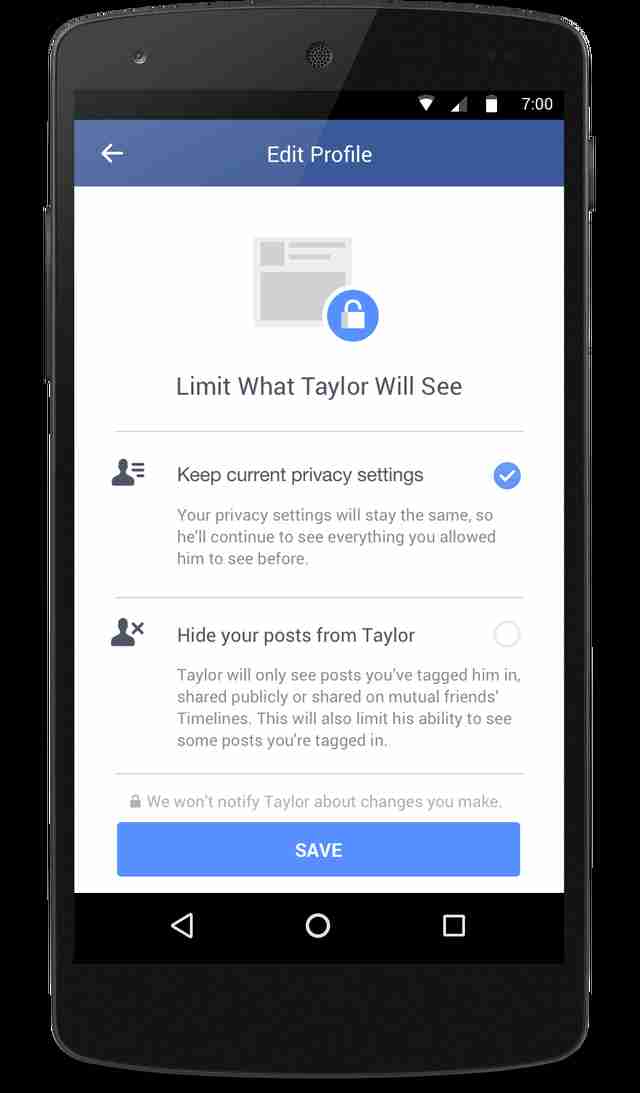 And! You can limit the hell out of what your ex can see about your now-awesome life. Because subtweets are for Twitter, but posting videos of yourself singing along to "Single Ladies" is for Facebook -- just not your ex's Facebook. Your ex will have to hear about it the old-fashioned way: via telegram. Probably.
Since the future is only part of the game, you can also rewrite your past, Eternal Sunshine of the Spotless Mind-style, by untagging yourself from past photos and posts you were previously in. No more falling down the sorrow-hole with a pint of Haagen Dazs and a bottle of wine on Friday night.
Now it's just party central with a pint of Haagen Dazs and a bottle of win on Friday night.
The changes are currently only being tested with select mobile users in the US, but sources say the rollout will eventually hit other devices and expand outside domestic digital borders early next year.
Read the full post here. And stop worrying about digitally running into your ex again.

Sign up here for our daily Thrillist email, and get your fix of the best in food/drink/fun.
Ryan Craggs is Thrillist's Senior News Editor. He was not paid by Facebook to write about this, but he was paid by Thrillist to write about this. He'll gladly take Facebook's money, too. Follow him @ryanrcraggs.