There's Actually Another Hidden Facebook Messages Inbox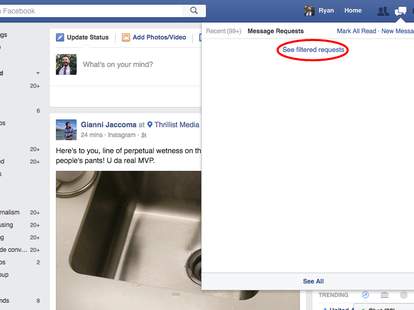 While you're probably well aware of the messages your grandma sends you on Facebook, there's actually a good chance your inbox is full of unread messages that you didn't know were there. No, we're not talking about the "message requests" you'll get from strangers from time to time. Instead, it's Facebook's latest version of the "other" inbox, and you've probably overlooked it this whole time.
Facebook beefed up its efforts filter out spam messages with the introduction of the message requests feature late last year, which essentially prevents people you aren't friends with from messaging you without your approval so your inbox doesn't turn into the spammy hellscape that is your Yahoo! mail account from 2003. But, apparently, Facebook adds another layer of filtering to the messages people send you, and hides them in a well-hidden "filtered requests" folder. But don't worry, here's how to find it:
If you're on the desktop browser version of Facebook, open the messages drop-down near the top-right corner, click "Message Requests," then click where it says "See filtered requests." If you're on the Facebook Messenger app, tap the Settings icon at the bottom, then tap the following: People > Message Requests > See filtered requests.
Yep, it's really that simple and you're going to kick yourself for never noticing it before. But brace yourself, folks, as there could be legit missed messages from distant acquaintances, people trying to contact you for business opportunities, or actual people asking you out on a date that you've now rudely ignored for months. Or your filtered requests are just a bunch of unintelligible spam messages, a zillion randos who just said "hi,' and if you're lucky, a few unsolicited dick pics. And by lucky, we mean we're glad you didn't have to see them until now (sorry?).
Sign up here for our daily Thrillist email, and get your fix of the best in food/drink/fun.
Tony Merevick is Cities News Editor at Thrillist and his contains five messages from spam accounts. Send news tips to news@thrillist.com and follow him on Twitter @tonymerevick.