Facebook Just Combined Your Go-To Food Ordering Apps Into One Giant Delivery Menu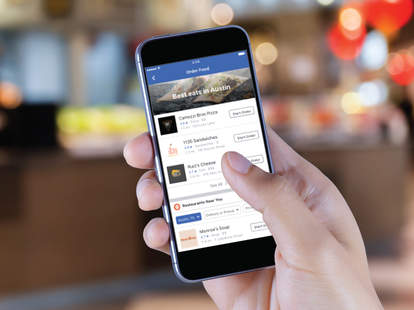 Maggie Rossetti/Thrillist
Facebook doesn't just want to get into the food delivery game, it wants to swallow it whole. On Friday, the company announced a new feature that allows you to order food from local restaurants via popular delivery services like Delivery.com, GrubHub, and others without having to leave Facebook's website or app. The idea is to combine the deluge of separate delivery options into a single, massive food menu housed within the social network itself.
Unlike Amazon, which announced an expanded Amazon Restaurants feature in partnership with the restaurant software company Olo last month, Mark Zuckerberg's juggernaut is partnering with several food delivery services that are already entrenched in the game, such as GrubHub, EatStreet, Delivery.com, DoorDash, ChowNow, and Olo as well. As part of the function, which is called -- gasp -- "Order Food," you can scroll through what's essentially a master list of all the restaurants in your neighborhood that offer delivery through various delivery sites and order a meal. Deliveries won't come from an army of Facebook task rabbits, but rather from restaurants themselves, all of which are already partnered with the aforementioned delivery sites.
In case you're looking for a tutorial of how the ultra-simple function works, observe below:
A number of large chains are involved, too, including Papa John's, Wingstop, Panera, Jack in the Box, TGI Friday's, Denny's, El Pollo Loco, Chipotle, Five Guys, and Jimmy John's. In a Facebook blogpost, Alex Himel, the company's vice president of local, notes that cutting through the swath of delivery apps should improve the apparently byzantine way we order fried rice on the internet.
"Today, we're taking the time out of finding what you want to eat by officially launching the ability to order food for pick-up or delivery, directly on Facebook," Himel said. "People already go to Facebook to figure out what to eat by reading about nearby restaurants, and seeing what their friends say about them. So, we're making it even easier."
Facebook isn't gaining any money from the endeavor, because it's more of a data-mining opportunity to process user behavior, according to a Bloomberg report. Additionally, the opportunity to order food on the app presents Facebook with a way to drive more user engagement, so you can stay logged onto the social network for even longer than you already are every day.
Whether or not Order Food winds up becoming a runaway hit remains to be seen, but it certainly is a sign of Facebook's intention to keep expanding its empire in the digital world -- up through your kitchen table IRL.
Sign up here for our daily Thrillist email and subscribe here for our YouTube channel to get your fix of the best in food/drink/fun.

Sam Blum is a News Staff Writer for Thrillist. He's also a martial arts and music nerd who appreciates a fine sandwich and cute dogs. Find his clips in The Guardian, Rolling Stone, The A.V. Club and Esquire. He's on Twitter @Blumnessmonster.