Facebook Is Asking for People's Nudes to Protect Them From Revenge Porn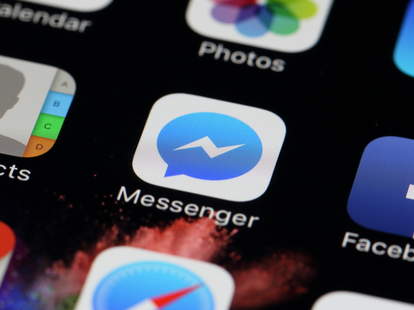 In a new and seemingly questionable effort to crack down on the scourge of revenge porn on Facebook, the social network is asking users to provide their nudes. The company's aggressive fight to protect people from having their explicit images shared on the web without consent is being tested in Australia with help from the country's government. But in an ironic twist, users can only safeguard their racy photos from spreading on Facebook by sending them to the tech giant first.
In order to use the feature, users upload their explicit content to Facebook Messenger in a conversation with themselves, and flag the image as a "non-consensual intimate image," according to a Motherboard report. Using an AI program, Facebook marks the image and prevents it from being uploaded to the website. Even though Facebook says it won't keep any of the sensitive material, it's still a gambit that'd make anyone with a healthy distrust of massive, faceless technology companies a little nervous.
Once images are sent to Facebook, the photos are "hashed" by a community systems analyst, who creates a "unique digital fingerprint" of the file that prevents it from being shared again on the platform, according to a reportThe Guardian. The images are stored briefly before being deleted, the company confirmed. The "photo-matching" technology employed in the scheme was originally developed by Microsoft in 2009, and is commonly used across web security and government agencies, such as the Department of Homeland Security. 
Facebook has been ramping up its efforts to tackle the issue of revenge porn since April, when it gave users the ability to flag sensitive images with a "report" button. Under that feature, if a post violates the site's community standards, Facebook scrubs it from the website after conducting a review. "In most cases," the company wrote in a press release, "we will also disable the account for sharing intimate images without permission." At the time, Facebook said its photo-matching tech was also used to "help thwart further attempts to share the image on Facebook, Messenger and Instagram." 
Cases of revenge porn sometimes come in an avalanche, like in 2014, when a massive trove of celebrity nude photos surfaced on the web. According to a report conducted last year by the Data and Society Research Institute, 10 million Americans claim they've had their nude photos shared on the internet without their permission.
Sign up here for our daily Thrillist email and subscribe here for our YouTube channel to get your fix of the best in food/drink/fun.
 
Sam Blum is a News Staff Writer for Thrillist. He's also a martial arts and music nerd who appreciates a fine sandwich and cute dogs. Find his clips in The Guardian, Rolling Stone, The A.V. Club and Esquire. He's on Twitter @Blumnessmonster.