How To Tell if Your Facebook Account Was Hacked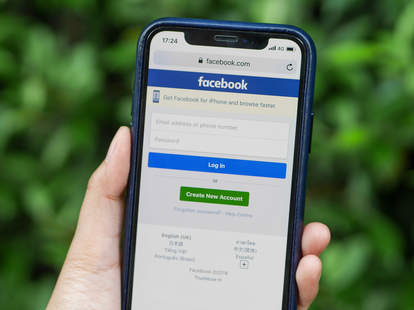 Just when you thought Facebook couldn't possibly be rocked by another highly publicized scandal this year, the embattled social media giant just disclosed another massive issue impacting users: 50 million accounts have been impacted by a security breach. Yep, another security breach. Happy Friday, everyone.
Because 50 million accounts is obviously a lot, there's a good chance you're feeling a tad concerned about whether or not your own Facebook account was among those included in the hack. Thankfully, it looks like there's a quick way to find out, despite Facebook making no mention of sending any sort of clear notification or email to users who may have been impacted.
As Facebook explained in a brief "security update," hackers used a vulnerability in the social network's "view as" feature and managed to steal access tokens -- digital keys, if you will -- that could be used to take over people's accounts. In response to the attack, the company said it has fixed the vulnerability, contacted law enforcement, and completely disabled the "view as" feature, which allows you to view your own profile as someone else. It also reset the access tokens on the 50 million accounts it knows were affected by the security breach as well as an additional 40 million accounts that have been subject to a "view as" search within the last year.
The access token reset appears to be the key to finding out if your account may have been hacked. If you were suddenly logged out of Facebook on all of your devices at some point on Friday morning, then there's reason to believe your account is among the 90 million included in Facebook's move to reset access tokens. Facebook said it will also alert you to the breach upon logging back in; however, the company has yet to say whether it will tell users if they're among the 50 million whose accounts were compromised or simply part of the 40 million whose account logins were reset as a precaution. 
Here's how the company put it: "As a result, around 90 million people will now have to log back in to Facebook, or any of their apps that use Facebook Login. After they have logged back in, people will get a notification at the top of their News Feed explaining what happened."
Notably, Facebook said that because it is only in the early stages of its investigation, it's still unclear if any of the affected accounts were misused in any way or if personal information was accessed. The company also said there's a chance it will discover additional accounts that may have been compromised. If that's the case, it will reset the access tokens for those accounts as well.
News of the breach comes just after a Gizmodo report detailed the alarming ways Facebook uses your contact information to target users for the purpose of advertising. And while it may seem like years ago at this point, don't forget about the Cambridge Analytica scandal from this spring, which saw the account information of some 87 million users compromised. Needless to say, the latest hack likely won't help to assure Facebook users who have been thinking about ditching the world's biggest social network.
How to Delete Your Facebook 
There are two ways you can go about saying goodbye to Facebook: deactivating your account and deleting your account. While deactivating your account is meant to be a temporary move, deleting your account is permanent. Here's how to do both, according to Facebook's Help Center.
To temporarily deactivate your account:
1. Click the down arrow menu button at the top right of any Facebook page
2. Click Settings
3. Click General in the left column
4. Click Manage your account, then click Deactivate your account and follow the instructions from there
To permanently delete your account:
1. Click the gear symbol at the top right of any Facebook page
2. Click Settings
3. Click Your Facebook Information in the left column
4. Click Delete Your Account and Information, then click Delete My Account
Sign up here for our daily Thrillist email and subscribe here for our YouTube channel to get your fix of the best in food/drink/fun.