Facebook's Changing Your News Feed...Again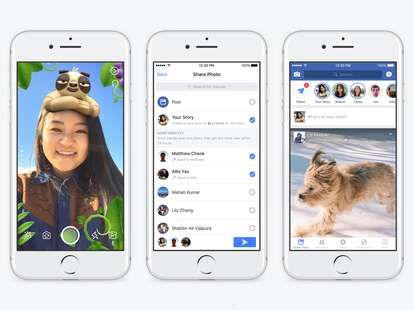 Like any good tech company, Facebook's updates have dogged its customers and forced them to adapt time and time again in the 13 years since it launched. Today we've got another that looks a lot like a shot across the bow of Snapchat and a carbon copy of Instagram Stories (remember: Facebook owns Instagram).
Facebook laid out the changes, which start rolling out on its mobile app today, in an explanatory blog post. After the changes go through, as with Snapchat and Instagram, upon clicking into your News Feed you'll be greeted with a row of your friends' profile pictures at the top of the screen. Tapping into those photos will allow you to watch their latest Facebook Story updates -- all of which self-destruct after 24 hours.
A revised in-app Facebook Camera powers the Facebook Stories. It's now positioned at the upper-left-hand corner of the News Feed while the Messenger icon was moved to the upper-right-hand corner. You can also swipe right to get to it. Facebook tricked out its new Camera with a suite of 3D and holographic effects, masks, filters, and frames that you can add to any photo or video you take...all of which sounds a lot like Snapchat.
You can then post those photos and videos as part of a threaded Story that self-destructs after 24 hours, onto your News Feed as you've been able to do before, or in a new feature called Direct -- which allows you to share photos and videos with specific friends. They're able to play the photos and videos exactly once before it gets erased forever...all of which sounds a lot like Snapchat.
In their blog post, Facebook made it clear that these weren't the only updates coming. Connor Hayes, a product manager, wrote: "Over the coming months, we plan to introduce new ways for the Facebook community to create their own frames and effects that can be used on any photo or video created with the new Facebook camera."
Sign up here for our daily Thrillist email, and get your fix of the best in food/drink/fun.