Don't Fall for This Free Southwest Airlines Flight Scam
The offers on social media seem too good to be true: An Airline hawking FREE TICKETS for a promotional endeavor usually tends to light up in the internet. After all, flash sales flood the market on a near-weekly basis, so it seems plausible that a free flight deal might descend from the heavens to whisk you to paradise. More often than not, though, the deals promising zero expense tend to be nothing more than a hoax. They happen more often than you'd think.
The latest example is a Southwest Airlines deal promising two free tickets for participating in a quick survey in honor of the carrier's 88th birthday. The fact that Southwest was founded in 1967 is probably the strongest indicator that this is an obvious ruse, but that hasn't stopped the faulty offer from popping up on Facebook.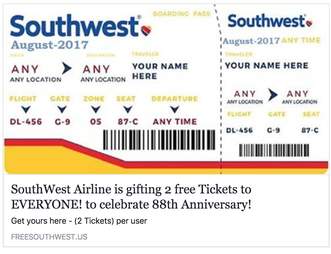 Linking out to a fake URL and an even faker website -- freesouthwest.us -- the deal queries the unwitting fool on various customer service related questions pertaining to the airline. Southwest has confirmed that the promotion is indeed bogus, writing to Thrillist in an email: "This ticket scam is indeed fake. While we do not offer tickets in exchange for survey responses, customers could also tell this is not a genuine Southwest offer by looking at the referenced website URLs: 'SouthWest Airline.com' and 'freesouthwest.us.'" The carrier's actual website is Southwest.com, while SouthWest Airline.com is a URL used solely for the scam.
The intent for nefarious deeds like this is to have people share the link all over the internet, so even more victims fall prey to the ruse. Predictably, this particular survey requires whoever took it to share the link on Facebook along with the statement "Thanks Southwest Airlines." More like, "Thank you for scamming me."
It's likely that the scam involves some kind of malware meant to compromise your computer, or it's being engineered by a shady company looking to spam you with inane marketing campaigns. As Snopes points out, signing the terms and conditions of these particular scams typically allows whoever created it to hand over your contact information to various "Marketing Partners," or shadowy companies intent on selling you crap you don't need.
Moreover, this is a pretty common ploy, and airlines are often used as the bait: Another fake deal purportedly from Southwest offering free tickets popped up late last year. Predictably, it was summarily debunked, but that doesn't mean that something eerily similar won't happen again very soon. 
Sign up here for our daily Thrillist email and subscribe here for our YouTube channel to get your fix of the best in food/drink/fun.
 
Sam Blum is a News Staff Writer for Thrillist. He's also a martial arts and music nerd who appreciates a fine sandwich and cute dogs. Find his clips in The Guardian, Rolling Stone, The A.V. Club and Esquire. He's on Twitter @Blumnessmonster.