This Hilarious Fake Olive Garden Commercial Has 'Lasagna Wings With Extra Italy'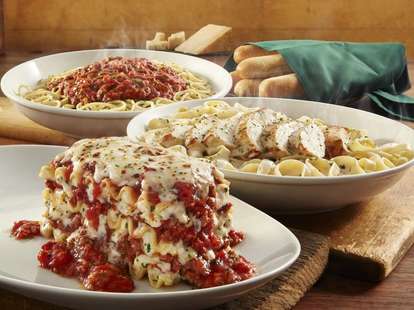 Courtesy of Olive Garden
Courtesy of Olive Garden
If you watch SNL, you know that Olive Garden commercials are perfect comedic fodder. And we're pleased to announce a new and glorious arrival to the Olive Garden commercial parody canon.
The bizarre masterpiece was created/summoned from the depths of hell by comedian Keaton Patti, who tweeted screenshots from it on Wednesday. He claimed in the tweet that he "forced a bot to watch over 1,000 hours of Olive Garden commercials and then asked it to write an Olive Garden commercial of its own." This is almost guaranteed to be untrue, but it's an incredible read either way.
If "lasagna wings with extra Italy" doesn't bring you to tears, maybe "We see the pasta nachos. They are warm and defeated" will. And it ends with the perfect tag: "Olive Garden. When you're here, you're here."
But that's the thing. It's actually too perfect.
There's a big thread about this by Twitter user Janelle Shane, which is an interesting read that'll teach you a lot about bots. Ultimately though, all of this is just a bit too clever, the logic is a bit too tight (the riffing on an infinite breadstick), and in short, it's literally too good to be true. When bots write things they come out endearingly wonky and surreal. Also, as Shane points out, it would require that "120,000 unique 30-sec Olive Garden commercials exist."
Regardless, this is good comedy and that's all that matters.
Now who wants some "unlimited stick"?
Sign up here for our daily Thrillist email and subscribe here for our YouTube channel to get your fix of the best in food/drink/fun.