This Year's Fall Colors Will Be Spectacular. Here's When & Where They'll Peak Near You.
Get ready to see the best fall colors. This map will help you plan your trip.
Edited - Courtesy of smokymountains.com
Edited - Courtesy of smokymountains.com
The first official day of fall isn't until September 22, but we all know that culturally, summer came to a crashing halt after Labor Day. And while you may not be ready to start sipping Pumpkin Spice Lattes and your favorite pumpkin beers quite yet, the leaves aren't waiting until late September to transition into the new season. In fact, if you don't act fast, you may miss out on seeing this year's spectacular fall foliage, so start making your plans ASAP.
Especially in a year where the pandemic has dictated so much of what we're doing, it's worth knowing when your region is going to see peak fall foliage, the days over which you have your best shot of seeing those dying leaves put their best foot forward. Fortunately, SmokyMountains.com has shared its annual interactive fall foliage forecast map, projecting when and where those beautiful fall colors are going to be at their brightest in every corner of the (contiguous) country.
No projection of when leaves will shed their green hues is going to be 100% accurate. There are a whole lot of factors involved in the projection. A heatwave or a strong storm that strips trees of their leaves will shift the projections significantly. Nonetheless, the organization has refined its methods using a whole lot of data.
"In order to accurately predict fall, our model ingests a multitude of data sources including historical precipitation, NOAA precipitation forecasts, elevation, actual temperatures, temperature forecasts, and average daylight exposure to develop a baseline fall date for each county in the continental United States," David Angotti, Founder of SmokyMountains.com said. "Next, the model consumes hundreds-of-thousands of additional data points from a variety of government and non-government sources and layers this data over our own historical data from past years. Finally, with a high degree of accuracy, the algorithm produces nearly 50,000 date outputs indicating the progression of fall for every county in a graphical presentation that is easy to digest."
The fall foliage forecast & prediction map for 2020
This year's map shows significant swaths of peak fall foliage arriving as early as the last couple of weeks of September for parts of the West, upper Midwest, and Northeast. By October 5, the projection has lots of the northern US beyond peak leaf season, with the peak just arriving in parts of New York, a ribbon through North Dakota to Wisconsin and Michigan, as well as states like Idaho, Wyoming, Colorado, Utah, Arizona, and central Montana.
Use the slider along the bottom of the map (above) to select dates and find the perfect time to go leaf-peeping in your region. It's as good of an excuse as any to plan a road trip.
When and where peak foliage will arrive this fall
September 14
Leaves are expected to be changing, but peak colors are just starting to hit a couple of areas. Parts of Colorado, Wyoming, Montana, and northern Minnesota around the Boundary Waters are at "near peak."
September 21
Things are about the same this week, with many other areas getting "near peak" or at "partial" peak colors. Some of those "near peak" areas are stretching into Utah, Wisconsin, and Michigan's Upper Peninsula. Most of Montana and the northern tip of Maine are also "near peak." A couple of pockets of peak colors are appearing as well in Minnesota, Montana, Wyoming, and Colorado.
September 28
Out west, you've got quite a bit of peak leaf season arriving through Montana, Wyoming, Utah, and Colorado, as well as northern Minnesota, Michigan's Upper Peninsula, and a small patch in northern Michigan and Wisconsin. You're also getting those lovely colors hitting Maine, New Hampshire, and Vermont.
October 5
All those areas that were doing great up until now are projected to be "past peak," per the map. But lots of Idaho, Utah, and a bit of northern Arizona are getting their peak colors. The areas that had peak last week have also stretched out in Minnesota, North Dakota, Wisconsin, Michigan, and the upper Northeast.
October 12
Peak leaf season has arrived in a lot more places like Iowa, the Pacific Northwest, and a whole lot of New England, including much of New York and Massachusetts.
October 19
There's a whole lot of peak time happening now in Washington, Oregon, Nevada, eastern Montana, North Dakota, Iowa, Illinois, Indiana, southern Michigan, Ohio, Pennsylvania, New Jersey, Kentucky, West Virginia, Virginia, and North Carolina. Almost anywhere that isn't in the South is "near peak" or "partial" at this point as well.
October 26
A large portion of the northern US is almost all "past peak." But there are a ton of places peaking, including Nevada, North and South Dakota, Nebraska, Kansas, Missouri, Illinois, Indiana, Ohio, Kentucky, Tennessee, Pennsylvania, Delaware, Maryland, and North Carolina, as well as bits of Georgia, South Carolina, Arizona, New Mexico, Oklahoma, and Texas.
November 2
If you're in the north, you've missed your moment. Peak season has moved south with it hitting California, Nevada, New Mexico, a bit of Texas, Oklahoma, Kansas, Nebraska, Missouri, northern Arkansas, western Kentucky and Tennessee, northern Mississippi and Alabama, Georgia, and South Carolina.
November 9
Most of the country has passed its peak at this point. There's a strip of California and Arizona that's at peak, as well as a wave across Texas, Oklahoma, Louisiana, Mississippi, Alabama, and Florida.
November 16
You'll only find peak colors in central Texas, Louisiana, and parts of Florida.
November 23
Only the southernmost parts of the US are still seeing peak leaf season now. Goodbye, colorful leaves; hello, Thanksgiving.
Where to see the colorful leaves
Here are some of our local leaf-peeping guides:
Of course, the New England region is famous for its fall foliage, but there are plenty of places outside of New England where you can go to stare into miles and miles the gorgeous leaves.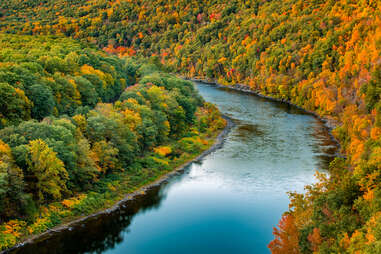 Why do leaves turn red, orange, and yellow in the fall?
You probably don't remember this lesson from grade school science class. Before we get into why leaves turn red, yellow, orange, and brown, we have to start with why leaves are green. It all boils down to photosynthesis and chlorophyll.
In spring and summer, leaves appear green because of the millions of chlorophyll cells that are created during photosynthesis in the tree's chloroplasts, the organelles that carry out the process. Without all of that green chlorophyll, leaves would always look like they do in autumn.
The constant creation of chlorophyll throughout spring and summer gives trees and other plants their vivid green hues because it masks other compounds in the leaves that would otherwise make them appear yellow and orange. In other words, those are the leaves' true colors. Photosynthesis slows down in the fall due to the significant decrease in sunlight trees receive, grinding the creation of chlorophyll to a halt. When the green recedes, it exposes the colorful compounds inside.
As the University of Vermont explains, each of the fall leaf colors comes from specific pigments: carotenoids and anthocyanins.
"'Carotenoids' are leaf pigments responsible for yellow and orange colors in leaves, particularly in fall. Think of orange, as in carrots. They are present during the season but masked by the green chlorophyll, except in plants that may be stressed or with yellow leaves normally," per the university. "… 'Anthocyanins' are the pigments responsible for red and purple fall leaf colors. These are only produced in the fall when sugars are trapped in the leaves. They function similar to the carotenoids, and help the leaf use up any remaining energy as chlorophyll disappears. Abundant dry weather and sunlight lead to more sugars in leaves, which in turn leads to brighter fall reds. More red in leaves, and earlier reds, can come about too from plant stresses, low nutrition, and near but not freezing temperatures."
Interestingly, the colors you see throughout fall also depend on the type of tree. Trees like beeches, hickories, tulip poplars, and birches have mainly yellow and orange fall leaves, while you'll find red leaves on trees like sumacs, sweet gums, sourwoods, mountain ashes, scarlet oaks, red maples, and some sugar maples, according to UV.
OK, enough with the science lesson. Time to pack up your favorite flannels and venture into the woods to take in the crisp, natural beauty.
Sign up here for our daily Thrillist email and subscribe here for our YouTube channel to get your fix of the best in food/drink/fun.