Although it may feel like this hot and steamy summer may never end, fall -- with its mercifully cooler weather, pumpkin drinks, and changing leaves -- is nearly upon us. So, it'd behoove you to start looking at the trees. The changing of the seasons brings with it ample reason to break out a flannel shirt and walk through the stunning fall foliage all across the country, and thanks to the above-average moisture and temperatures this summer, you'll have plenty of time to ensure that you can venture into the woods and take it all in. 
You may have missed your chance to fit in another summer trip this year, but on the bright side, you have more than enough time to plot an adventure through American's stunning forests to catch the changing leaves, or dare we say go "leaf peeping." To make matters even easier, SmokyMountains.com has released its annual interactive fall foliage forecast map, predicting when and where the leaves will be at their most vibrant hues of red, yellow, orange, and brown. And while there's no forecast that's 100% accurate, the map can serve as your primary resource if you're inclined to wander into the woods this fall. 
Recommended Video
This $4M Super Yacht Comes With a Fire Pit and a Jacuzzi
The map is the product of an algorithm that provides a county-by-county look at when fall colors will peak across the contiguous United States in 2018, using a plethora of data points from historical forecasts. An interactive version of the map (shown above) reveals where leaves will peak every week all the way through the beginning of winter. Below, you'll find a breakdown of when to expect peak to arrive near you, according to the map.
When & Where Peak Will Arrive This Fall
August 27
Where: Unsurprisingly, the leaves haven't started to change anywhere across the country. Green is king, for now.
September 10
Where: The map predicts "minimal" changes will be seen in parts of the Northeast -- Vermont, New York, and northern Pennsylvania -- as well as northern Minnesota and parts of Colorado and New Mexico.
September 17
Where: Many of the areas that saw "minimal" changes will graduate to "patchy" changes, especially in the Northeast. At the same time, additional areas in the Northeast, upper Midwest, and around the Rockies will also see some changes start to occur. In fact, a recent report from I Love NY indicates the leaves are beginning to change in northern reaches of the state, like the Adirondacks, Thousand Islands-Seaway, and Capital-Saratoga regions.
This is only the beginning, so you're not going to see anything spectacular anywhere in the country quite yet.
September 24
Where: Just in time for the official start of fall (September 22), you'll start to see the leaves change in a major way in the parts of the country that previously saw "patchy" changes earlier in the month. This forecast is still a ways away from the peak, but you'll begin to see the beautiful colors in parts of the Northeast, upper Midwest, and in much of Colorado. For example, nearly half of the leaf-bearing trees in northern portions of Maine will be bright will fall colors at this point, according to a fall foliage report by the state's Department of Agriculture. 
Minimal changes will begin to spread elsewhere as well.
October 1
Where: Just in time for the start of everyone's favorite fall month, parts of six states -- Vermont, New York, Pennsylvania, Minnesota, and New Mexico -- are forecast to be "near peak." Additionally, much of the northern half of the country will see the leaves beginning to change if they haven't already. 
October 8
Where: Peak finally arrives in much of New York, Vermont, and northern parts of Pennsylvania, while most of the surrounding areas will reach "near peak," so that's likely where you'll want to be to see the most colorful displays. The forecast also calls for the leaves to reach peak in northern Minnesota and central parts of Colorado and New Mexico. Additionally, only states in the South will still be waiting for leaves to change at this point.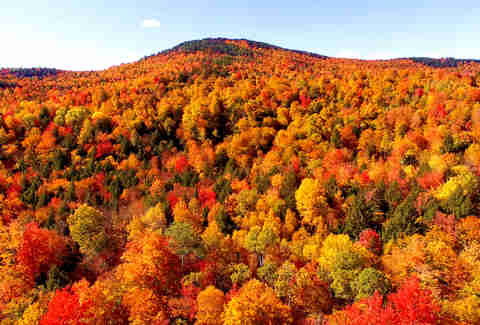 October 15
Where: Even larger expanses of the same regions will see peak, including several additional states like Maine, New Hampshire, Massachusetts, Connecticut, Rhode Island, New Jersey, Michigan, Wisconsin, North Dakota, Montana, Idaho, Wyoming, and Utah. Meanwhile, the areas that reached peak in the prior week are forecast to be "beyond peak" at this point and only small areas of the South remain unchanged. 
October 22
Where: Portions of even more states are expected to enjoy the height of the beauty, including Maryland, Virginia, West Virginia, Ohio, Indiana, Illinois, Iowa, South Dakota, Nebraska, Kansas, Texas, Arizona, Washington, Oregon, and California. This appears to be peak peak, if you will, and change will be apparent in some way in every state on the map.
October 29
Where: Peak will begin to move farther south to states like Virginia, Kentucky, and Tennessee as well as to greater expanses of California, Oregon, and Washington. However, all of the Northeast, upper Midwest, and much of the areas around the Rockies are expected to reach "beyond peak" as November nears. 
November 5
Where: Most of the country will be beyond peak at this point, especially places in the North that are known for gorgeous fall colors. However, peak will continue to expand to new places in the South and almost all of California. 
November 12
Where: As winter begins to take hold, only parts of the South are not expected to be "beyond peak." Elsewhere, there likely won't be much left to see. "Beyond peak" dominates the map.
November 19
Where: Leaf peeping season is all but officially over now that the winter solstice is only about a month away (December 21). 
The Fall Foliage Forecast for 2018
Unlike last year, when almost all of the country had reached peak or beyond peak by early October, the forecast suggests peak will arrive slightly later in 2018, thanks to the weather. Specifically, the later peak is due to "heavier precipitation and warmer temperature trends expected through September," according to the experts at SmokyMountains.com. On top of that, they said the way conditions play out through September will have a huge impact on the colors you'll see: "While fall color vibrancy is completely dependent on weather, the most critical month is September. Generally speaking, crisp days combined with plenty of sunshine throughout September will produce the best colors."
SmokyMountains.com admits that no fall foliage prediction tool or forecast is perfect, but as the organization puts it, the map is "meant to help travelers better time their trips to have the best opportunity of catching peak color each year." It's also worth noting that there are still some factors at play that can influence when the leaves will reach peak in some places and how beautiful they'll be. 
"Although simply entering rainfall, temperature data, elevations, and other data points into a model will never be 100% accurate, this combined with our proprietary, historical data drives our model to become more accurate each year," Wes Melton, co-founder and CTO of SmokyMountains.com, said in a statement. "However, unexpected rainfall that falls well outside of expected trends can always change the peak foliage dates and brilliance."
As for New England, specifically, photographer and fall foliage expert Jim Salge of Yankee Magazine also expects an explosion of beautiful fall colors across the region, but just a tad later than usual. As Salge explains, El Nino is expected to develop, which will lead to warmer-than-normal temperatures persisting through much of fall. 
"Putting this all together, we are fairly confident that the leaves will be bright, bold, and healthy when they begin to change in most areas, and a colorful, vibrant show should be on tap across most of New England this year," per Salge's report. "We also believe that the leaves, especially up north, will turn a bit later than historical averages."
Where to See the Colorful Leaves
Perhaps the only real challenge you'll face before diving into all of the fall colors is deciding on where you want to go. Of course, the Smoky Mountains are worth considering, thanks their numerous hiking trails and seemingly endless vistas of cliffs burning with fall colors. Areas throughout New England are also prime destinations for a stroll through the leaves, including easily accessible spots like Mount Monadnock in Jaffrey, New Hampshire; Wachusett Mountain in Princeton, Massachusetts; and the Arnold Arboretum in Boston.
For something a bit more involved, head to Vermont's Green Mountain Byway and you'll be treated to the pure splendor of fall in New England via bucolic towns like Waterbury and Stowe. On the other hand, you can always kick back and enjoy the views from aboard Amtrak's Downeaster and Adirondack train lines.
Why Do Leaves Turn Red, Orange, and Yellow?
Chances are you don't remember this lesson from grade school science class, so here's a quick refresher. To understand why leaves turn red, orange, yellow, or brown, you first have to understand why leaves are green. It all starts with photosynthesis and chlorophyll (maybe Billy Madison was wrong). Specifically, leaves appear green, thanks to the millions of chlorophyll cells that are generated during photosynthesis in the tree's chloroplasts, the organelles that carry out the process. And here's the thing: without all of that green chlorophyll, leaves would always look like they do in autumn. 
The constant creation of chlorophyll throughout spring and summer gives trees and other plants their vivid green hues because it masks other compounds in the leaves that would otherwise make them appear yellow and orange. In other words, those are the leaves' true colors. In fall, photosynthesis slows due to the significant decrease in sunlight trees receive, grinding the creation of chlorophyll to a halt. The dramatically receding green exposes the colorful compounds within the leaves, according to a detailed description of the foliage map.
As the University of Vermont explains, each of the colors comes from specific pigments in the leaves: carotenoids and anthocyanins.
"'Carotenoids' are leaf pigments responsible for yellow and orange colors in leaves, particularly in fall. Think of orange, as in carrots. They are present during the season but masked by the green chlorophyll, except in plants that may be stressed or with yellow leaves normally," per the university. "… 'Anthocyanins' are the pigments responsible for red and purple fall leaf colors. These are only produced in the fall when sugars are trapped in the leaves. They function similar to the carotenoids, and help the leaf use up any remaining energy as chlorophyll disappears. Abundant dry weather and sunlight lead to more sugars in leaves, which in turn leads to brighter fall reds. More red in leaves, and earlier reds, can come about too from plant stresses, low nutrition, and near but not freezing temperatures."
The colors you see also depend on the type of tree. Some trees -- beeches, hickories, tulip poplars, and birches -- have mainly yellow and orange fall leaves. You'll find red leaves on trees like sumacs, sweet gums, sourwoods, mountain ashes, scarlet oaks, red maples, and some sugar maples, according to UV. 
All said, this year's fall foliage forecasts and predictions are great news if you're still planning a trip to check out the gorgeous leaves. Since peak isn't expected to arrive until early October, you have still have a couple weeks to coordinate a trip, pack your best flannel shirts, and eventually, venture into the woods to take in all of the crispy, natural beauty. After such a steamy summer, you deserve autumn's perfect chill.  
Sign up here for our daily Thrillist email and subscribe here for our YouTube channel to get your fix of the best in food/drink/fun.