These Popular Chains Are Offering Family Meal Bundle Deals Now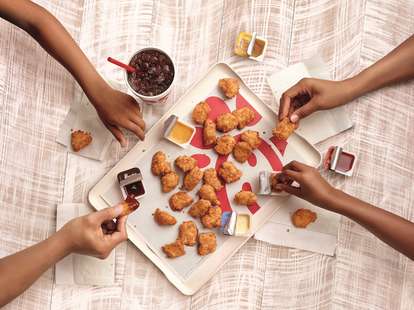 Courtesy of Chick-fil-A
Courtesy of Chick-fil-A
It's day ?? of social distancing and you've long since abandoned the very thought of wearing real pants, let alone those lofty goals for any sort of home cooked meal. But just because Postmates has become your trusty new pal while in relative isolation doesn't mean you have to ditch those sit down family dinners altogether.
Amidst the COVID-19 outbreak, restaurants across the US are offering increased delivery and takeout options, with many serving up family meal bundle deals so you can feed the whole crew without feeling like a complete Top Chef reject.
These are the best family meal deals from spots like Chick-fil-A, Einstein Bros. Bagels, and Carl's Jr. happening right now:
KFC
Nothing makes you snap on a sibling faster than hunger-induced rage. Not staying properly fed while stuck at home is like asking for a knock down, drag out fight over who ate slice of leftover pizza. Luckily, KFC is doing more than enough to keep the whole family fed.
Beginning April 1, the fried chicken chain is offering a $30 Fill Up deal that includes KFC's 8-piece original recipe or extra crispy chicken and 12-piece extra crispy chicken tenders with a large coleslaw, four biscuits, and two large mashed potatoes with gravy. The whole feast is enough for not one, but two family-sized meals and features convenient instructions on how to reheat right there on your receipt.
Panda Express
While you should support your fave local Chinese restaurants during this trying time as well, the Panda Express Family Meal promotion, which offers guests two large sides and three large entrees for $20, is definitely deserving of a spot in your weekly dinner rotation.
But an important FYI, the fast casual American-Chinese chain has temporarily simplified its menu. "Since Panda's flavorful wok-prepared dishes with hand-cut vegetables take time and effort to prep, the restaurant is transitioning to a simpler menu, featuring only its most popular dishes to help Panda's frontline store associates' lives a bit easier," the company said in a statement.
Beginning April 6, the updated menu will feature orange chicken, broccoli beef, grilled teriyaki chicken, kung pao chicken, mushroom chicken, honey walnut shrimp, the sweet fire chicken breast, firecracker shrimp, and the new black pepper angus steak.
Chick-fil-A
Times are tough, and while chicken nuggets won't solve all your problems, they will make life while social distancing slightly brighter. Chick-fil-A knows that and is introducing Family Meal bundles at participating restaurants nationwide. The promo is a build-your-own type deal, so you can opt for your favorites.
Starting at around $15 depending on location, you'll choose from items like nuggets, chicken sandwiches or spicy chicken sandwiches, waffle fries, mac & cheese or chocolate chunk cookies. Your bundle will come with a gallon of brewed iced tea, as well -- sweetened or unsweetened. Carry-out, drive-thru, and delivery are all available.
Red Lobster
So maybe you're not self-isolating at on the beach like your jerk friends, at least you can still get buttery seafood dishes at home. Red Lobster is serving up 11 different family meal deals -- that'll feed up to four people and start at $27.99 -- all of which feature your fave dishes (we're talking crab linguine, fish fry, sirloin, and more), sides, and plenty of Cheddar
Bay Biscuits. An added bonus? Delivery is free when you order through the site.
Jack in the Box
In addition to free delivery, Jack in the Box is now offering three different meal bundles for drive-thru, delivery, and takeout orders. The Jack's chicken meal, burger meal, and breakfast meal come packed with enough to feed four very hungry humans -- maybe more. Prices range between $20 and $26.
Jack's burger meal:
2 Ultimate Cheeseburgers
2 Jr. Bacon Cheeseburgers
2 Medium Curly Fries
2 Medium Potato Wedges
4 Tacos
Jack's chicken meal:
2 Jack's Spicy Chicken Sandwiches with Cheese
2 Value Chicken Sandwiches
2 Medium Curly Fries
2 Medium Potato Wedges
4 Tacos
Jack's breakfast meal
2 Sausage Croissants
4 Breakfast Jacks
4 Hashbrowns
4 Orange Juices
LongHorn Steakhouse
Unless you're looking to actually cook the steak yourself (which you can do, fyi), LongHorn's food bundles are your ticket. Prices start at $36 and include enough grub for groups up to four. Entrées include hand-breaded chicken tenders, the renegade sirloin, parmesan-crusted chicken, and baby back ribs, but there are a whole bunch of combos and sides included too. So scroll through, order, and thank me later.
Einstein Bros. Bagels
The plus side of brunch at home? You can hog the entire bottle of cheap sparkling white wine and eat two bagel sandwiches without the judgement of the table next to you. As if that weren't enough, Einstein Bros. Bagels just debuted three different family meal combos available for takeout and delivery.
The hot & ready box, which feeds six to eight people for $29.99, includes six fresh-baked bagels a tub of cream cheese, three egg sandwiches pre-cut in halves for easy devouring (one farmhouse and two bacon & cheddars), four blueberry muffins, and four twice-baked hash browns. The take & make pizza bagel kit will keep six family members (or one really hungry one) fed for $9.99 with all the fixings for six cheese pizza bagel slices and six pepperoni pizza bagel slices. The take & make bagel deli kit, which will run you $29.99 and feed up to six, is stocked with six fresh-baked bagels, turkey and ham, cheddar, tomatoes, onion, and lettuce with mayo and mustard packets.
Olive Garden
Craving carbs, carbs, and more carbs? It's a side effect of self-isolation, I swear. Order an Olive Garden family bundle for enough lasagna, chicken parmigiana, chicken alfredo, soup, salad, and breadsticks to feed your whole crew. You can also throw in beer and wine if your location allows.
Denny's
On April 7, Denny's launched its own shareable family packs so you can still get your brunch fix while social distancing. The 24-hour breakfast chain is now offering pickups and free no-contact deliveries for the meal kits, which come packed with enough grub to feed families of four to five people for just $24.99 to $28.99.
Grand slam pack:
Eight buttermilk pancakes
Eight scrambled eggs
Four slices of bacon
Four sausage links
Hash browns
Build-your-own cheeseburger pack:
Four beef patties topped with American cheese
Custom toppings like lettuce, tomatoes, red onions, pickles, mayo, ketchup, and mustard
Brioche bunns
Wavy-cut fries
Chicken tenders pack:
Sixteen fried chicken tenderloins
wavy-cut fries
BBQ and honey mustard sauces
Sides (a la carte and feeds four):
red-skinned potatoes (with or without gravy), broccoli or sweet petite corn
Drinks (choose four beverages):
Diner blend coffee
Regular decaf coffee
Fresh brewed tea
Lemonade
Mango Lemonade
Strawberry Lemonade
Soft Drinks
Qdoba
You probably don't need an excuse to break out the tequila, but here's one anyways: Qdoba is serving up enough meal fixings for a group of five. The kits come complete with grilled adobo chicken or steak, cilantro lime rice & black beans, a three cheese queso, pico de gallo, salsa verde, shredded cheese, tortillas, and a large bag of chips, starting at $34.95.
Plus, between Tuesday, April 7 and Monday, April 13, rewards members will get $5 off orders of $25 or more. If you haven't already signed up, get on it.
Dickey's Barbecue Pit
Since we're basically missing out on spring altogether, might as well get a jump start on celebrating summer with Dickey's Barbecue Pit's classic family pack. It's packed with 1-lb of pulled pork, 1-lb of brisket, barbecue beans, cabbage slaw, potato salad, six rolls, barbecue sauce, pickles, and onions. The $34.99 deal features enough for your crew of four and is available for free doorstep delivery or pick-up through the website or Dickey's Barbecue Pit app.
"With our new Classic Family Pack, we wanted to offer an easy and affordable dinner option from our family to yours," CEO Laura Rea Dickey said in a statement to Thrillist. "We're open and proudly offering all of our neighborhoods the same trusted and carefully prepared authentic, Texas-style barbecue we've been serving families since 1941."
Carl's Jr. & Hardee's
Carl's Jr. and Hardee's have your back for breakfast, lunch, and dinner. Hardee's has got three breakfast bundles available for $9, three lunch and dinner bundles for $15 a pop, and Carl's Jr. is offering three of its own $15 lunch and dinner bundles.
Hardee's breakfast:
4 sausage & egg biscuits and 4 small hash rounds
4 bacon, egg & cheese biscuits and 4 small hash rounds
4 bacon, egg & cheese biscuits and 2 small hash rounds and 2 cinnamon 'n' raisin biscuits
Hardee's lunch and dinner:
12 hand breaded chicken tenders and 2 medium fries
4 big cheeseburgers and 4 small fries
6 hand breaded chicken tenders and 2 double cheeseburgers and 4 small fries
Carl's Jr. lunch and dinner:
12 hand breaded chicken tenders and 2 medium fries
4 big cheeseburgers and 4 small fries
2 big cheeseburgers and 12 chicken stars and 4 small fries
Fazoli's
Need to carbo load for all those (responsibly distanced) walks? Fazoli's has a "super family meal" deal happening for $19.99, featuring big 'ole order of Fettuccine Alfredo and Spaghetti with meat sauce or marinara, a whole cheese or pepperoni pizza, and 8 breadsticks.
Sign up here for our daily Thrillist email and subscribe here for our YouTube channel to get your fix of the best in food/drink/fun.
Megan Schaltegger is a staff writer at Thrillist.