No One Wants the Patriots to Win the Super Bowl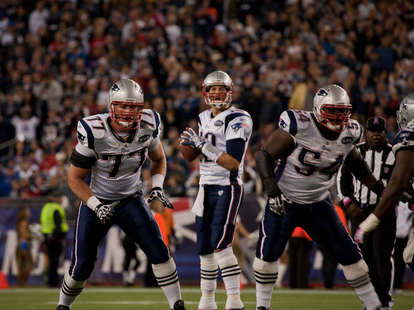 Between strong political divisions, La La Land, and basically everything Kanye does, America can seem like a divided nation. But it turns out that Americans aren't so different after all. A survey from Public Policy Polling indicates that Americans can stand united on their distaste for the New England Patriots.
Their polling says 53 percent of football fans in the U.S. are cheering for the Atlanta Falcons in Super Bowl LI while only 27 percent are cheering for the Patriots. That leaves 20 percent who have taken their undecided feelings from the polls in November to the Bowl in February.
Those numbers are even unifying across the most divisive lines that can be drawn. Republicans (58/23), Democrats (54/27), and independents (47/31) all have little interest in seeing the Patriots win yet another Super Bowl.
The company did polling on a number of football-related issues, including the teams' overall positive images. 55 percent of fans have a favorable view of the Falcons while just 19 percent have an unfavorable view. Meanwhile, the Patriots divide people. 43 percent have a positive view of the team while 42 percent have an unfavorable view.
However, the Patriots earn the ire of fans not just in the Super Bowl. The poll also indicates that ever since "Deflategate," the Patriots have become the most disliked team in the NFL, taking over a spot long held by the Dallas Cowboys. It's not surprising between multiple cheating allegations and having won a whole lot. No one likes a dynasty when it's not their favorite team.
That extends to the team's figurehead, Tom Brady, who polling has as the most liked and the most disliked quarterback in the NFL. Green Bay's Aaron Rodgers came in second for most liked, followed by Eli Manning and Dak Prescott. Cam Newton came in second for most disliked, followed closely by Ben Roethlisberger and Tim Tebow.
Super Bowl LI takes place Sunday night and will determine whether everyone outside of the northeast is able to celebrate together or if they'll once again have to watch Brady win it all.
Sign up here for our daily Thrillist email, and get your fix of the best in food/drink/fun.
Dustin Nelson is a News Writer with Thrillist. He holds a Guinness World Record but has never met the fingernail lady. He's written for Sports Illustrated, Rolling Stone, Men's Journal, The Rumpus, and other digital wonderlands. Follow him @dlukenelson.