The Best Food Deals for Your Fantasy Football Draft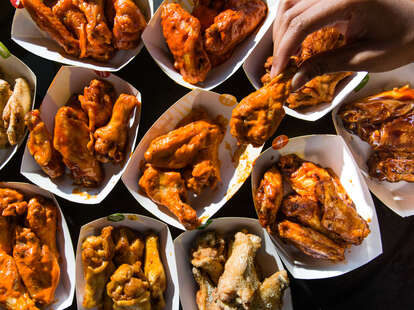 Cole Saladino/Thrillist
Cole Saladino/Thrillist
The end of August is here, and it's not all bad news. Sure, you need a quick panicked beach trek before it gets too cold, and you have to deal with pumpkins infiltrating food and drinks that were perfectly fine already. But there's also fall foliage and... well... I'm sure there's something else positive to say about the end of summer.
Fall is also the start of the NFL season and what is probably the most popular form of football. No, it's not touch or flag. We're talking about fantasy football and your late summer fantasy draft. If you're fortunate enough to have not drafted already, you can not only avoid a bit of bad Luck, but you can take advantage of excellent draft day food deals from restaurants like Buffalo Wild Wings, Firehouse Subs, Primanti Bros., Hooters, and others.
Food Deals for Your Fantasy Football Draft
Buffalo Wild Wings
The deal: Book a draft day bundle from B-Dubs, and your league commissioner gets a VIP Commissioner Card. It gives them a 15% discount throughout the season. They can also win prizes with the code on the back of the metal card. The bundles are big orders of wings and Shareables that can feed an entire league of pun-heavy team leaders.
When: Through September 8
Public School Restaurant and Bar
The deal: Host your draft at Public School to get two free appetizers, two free entrées, and $5 draft beers. You'll have to rack up a minimum of a $40 check with at least eight people in your party to unlock the freebies.
When: Through September 9
Primanti Bros.
The deal: For $15 a head, you can get one sandwich per person, unlimited Loaded Nachos, a draft kit, and access to a deal that lands you four 16-ounce Coors Light for $8. Plus everyone at the table gets a free VIP Fantasy Card. What that gets you varies by state, but in Pennsylvania and West Virginia, you'll get a free beer with any purchase on a Sunday.
When: Ongoing
Firehouse Subs
The deal: Get $10 off any deluxe catering platter for all your Draft-a-Palooza. Use this coupon to get the deal. (You can also take $2 off a medium or large sub with chips and a drink on September 2 with this coupon.)
When: August 28 - September 2
Sonny's BBQ
The deal: Pull together a full meal from Sonny's and tell your friends you made it yourself. Get a whole chicken, a pound of pulled or sliced pork, three pint-sized sides, and a choice of bread for $29.99. The deal is only good for takeout.
When: August 31 - September 2
Red Lobster
The deal: Get free delivery from participating locations when you place a To Go order through RedLobster.com. That includes its Family Style Feasts if you're looking to gussy-up your fantasy draft.
When: August 26 - September 1
Dave & Busters
The deal: Get a free draft kit and free room rental at Chuck E. Cheese for big kids. Plus you can get packages that include unlimited wings and games starting at $19.99. Or you can get 10% off all food, games, and non-alcoholic drinks. Both deals require that you have a group of at least 10 people.
When: Wings and games through August 30, 10% off through September 5
Hooters
The deal: Host a draft party at the classiest place in town to get a draft kit, swag, and $200 worth of coupons to use during the season. They also have an MVP bundle for $39.99 that includes 50 wings, Buffalo Chicken Dip appetizer, and Fried Pickles.
When: Ongoing
Miller's Ale House
The deal: The offer varies by location, but there are a lot of draft day deals available. They all look fairly similar, though. For instance, at locations in New York, $170 will get you 50 wings, two orders of Tex-Mex Chicken Nachos, two big pretzels, two flatbreads, two orders of Fully Loaded Cheese Fries, two orders of Zingers Mountain Melt, six pitchers of Coors Light, and a draft kit.
When: Through September 4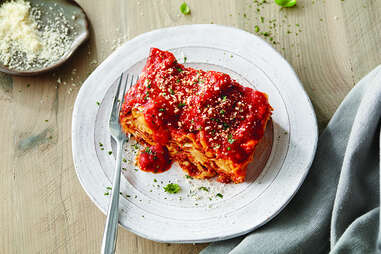 Other Food Deals Available During Your Fantasy Football Draft
Wendy's
The deal: Spend $10 through DoorDash and you'll get a free four-piece order of Spicy Nuggs as well as a small Sprite.
When: August 24 - September 7
Krispy Kreme
The deal: In celebration of the one-week-only release of pumpkin donuts, Krispy Kreme is offering a free donut to anyone who has purchased something pumpkin spice that wasn't satisfactory.
When: September 2-8
Applebee's
The deal: The chain's new Neighborhood Drink of the Month is a $1 Adios, available every day in September.
When: September 1-30
Slice
The deal: To celebrate the start of the NFL season, the app that connects you to local pizza shops is offering $5 off an order through the app. Use the code "NFL5" on an order of at least $10.
When: Ongoing
bd's Mongolian Grill
The deal: Get unlimited stir-fry bowls for the price of one.
When: Through September 2
UNO Pizzeria & Grill
The deal: Get a $2 Stemmari Rosé Sangria with UNO's new ongoing drink promotion.
When: August 23 - September 30
7-Eleven
The deal: The convenience chain has finally made a Nerds Slurpee, and you can get it a medium one for just a buck through the 7Rewards app.
When: For a limited time
White Castle
The deal: For a limited time you can get two breakfast sliders for $3. The offer is part of the slider hub's Winning Waffle promotion. Buy any waffle item and you can win a trip to Belgium.
When: Through November 4
Carrabba's Italian Grill
The deal: Order one of the chain's signature dishes -- Chicken Bryan, Chicken Marsala, Pollo Rosa Maria, or the Chicken Trio -- and you'll get a free order of Lasagne to take home.
When: Through September 8
Romano's Macaroni Grill
The deal: Romano's is offering free delivery on all orders placed at Macaronigrill.com.
When: August 28 - September 4
Fogo de Chão
The deal: Order any regularly-priced full churrasco and you'll get a free Children's Full Churrasco meal for a kid 12 or under.
When: August 30 - September 2
You can find even more related offers in the Thrillist lists of Labor Day food deals, Labor Day sales, back-to-school food deals, and back-to-school sales.
More Fantasy Football Draft Food Deals?
Did we miss something? Drop us a note at news@thrillist.com and we might add it here.
Sign up here for our daily Thrillist email and subscribe here for our YouTube channel to get your fix of the best in food/drink/fun.