This Dream Job Will Pay You $1,000 to Eat Bacon All Day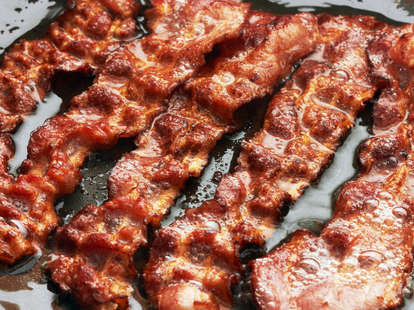 Shutterstock
Shutterstock
In a perfect world, bacon would be as nutritious as kale, and doctor-recommended as a superfood capable of brightening your skin and lowering your cholesterol. We don't live in that world, but what if you could carve out little piece of pork paradise for yourself by making money eating bacon all day? Play your cards right and it might happen because there's a new dream job that'll pay you a cool $1,000 to do just that.
A true labor of love for any amateur bacon aficionado, the casual West Coast-based restaurant chain Farmer Boys is looking to hire its first-ever "Bacon Intern" who'll be tasked with the arduous duty of tasting its various bacon-packed menu items for a full day and paid $1,000 for their troubles. Specifically, the successful candidate will spend the day pigging out (sorry) on the Bacon Boy Cheeseburger, Farmer's Burger, and Farmer's Chopped Cobb Salad, while also rating each strip of bacon for flavor and thickness. It's tough work for sure, but it's a job that needs to get done.
"At Farmer Boys, we're firm believers in customer feedback and listening to our guests, and we felt that hiring our first ever Bacon Intern would add another layer to that philosophy and help make our food as pork-tacular as it can be," said Larry Rusinko, vice president and chief marketing officer of Farmer Boys, in a press release. "In addition to taste-testing some of our most popular existing menu items, we also plan to have the Bacon Intern try some of the exciting items we're currently developing."
If you're interested, you'll need to throw your hat in the running by August 20 (it's worth noting that the "position" is based in Southern California, and you'll be responsible for getting yourself there). To enter, you just need to upload a "fun and engaging" photo or video to your personal Instagram account, explaining why you're the best person for the job. You'll also need to tag @farmerboysfoods and use the hashtag #farmerboysbaconintern in your caption. The winner will be announced August 27.
Even if you don't end up landing the gig, though, there's nothing stopping you from hosting your very own day-long bacon party? Just don't tell your doctor.
h/tMatador
Sign up here for our daily Thrillist email and subscribe here for our YouTube channel to get your fix of the best in food/drink/fun.