Calorie Counts Are Coming to All Major Fast Food Chains so You Can't Hide Your Shame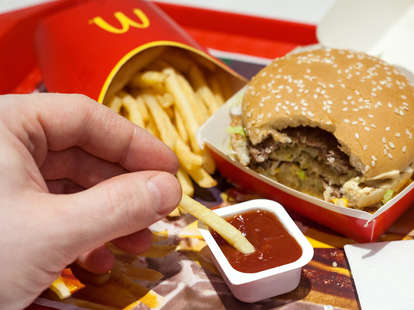 shutterstock
shutterstock
Eating fast food is usually an excuse to throw all caution to the wind and forget that you're paying good money to eat a hyper-caloric gut bomb. Treating yourself doesn't involve eating quinoa, after all, but your trips to fast food chains are about to get a healthy reality check by the Food and Drug Administration's new requirements, which mandate any chain with over 20 locations to list calorie counts for every menu item.
Starting Monday, May 7th, you're going to know just how many calories are crammed into a Big Mac, or a Whopper, or a Western Bacon Cheeseburger, or a Sourdough Jack. Yes, even the Fish Fillets won't be spared from the Obama-era policy, which is finally taking effect after slogging through legal and bureaucratic processes for years.
The requirements are part of the Affordable Care Act, and as you're probably aware, many restaurants have already listed calorie counts for years in anticipation of the rule taking effect. Now though, the calorie counts will be visible "on the menu listing the item for sale," which will contain "the number of calories contained in the standard menu item," as Vox explains. It doesn't only apply to fast food restaurants, either; the law will extend the oversight to any establishment with 20 locations or more.
The FDA describes the effort as a public health endeavor, because that's basically what it is:
"National menu labeling could help make a big difference in America's obesity rates, one of our most vexing public health challenges. Today, about 40 percent of all Americans are obese, and obesity increases the chances of developing heart disease, diabetes, and some types of cancer," the agency writes.
So much for gorging on burgers and fries in a blissful state of denial!
[h/t The Takeout]

Sign up here for our daily Thrillist email and subscribe here for our YouTube channel to get your fix of the best in food/drink/fun.
 
Sam Blum is a News Staff Writer for Thrillist. He's also a martial arts and music nerd who appreciates a fine sandwich and cute dogs. Find his clips in The Guardian, Rolling Stone, The A.V. Club and Esquire. He's on Twitter @Blumnessmonster.