In case you haven't heard, millennials are required to love travel and instant gratification. But unfortunately for me and the rest of my avocado-loving generation, the two are not synonymous. That's about to change, however, thanks to a new, insanely fast passenger aircraft.
The UK Space Agency is developing a plane that will travel between New York and London in one hour and it's expected to hit the skies by the 2030s. According to CEO Graham Turnock, who announced the news at Tuesday's Space Conference in Wales, the jet will fly at Mach 5.4, which in human speak, means really fast. These speed capabilities will change air travel elsewhere, too. For those traveling between the UK and Australia, the exhausting 20-hour trip may soon be a quick 4-hour jaunt. 
Recommended Video
Please Don't Hang Up: How NYC Businesses are Coping with COVID-19 Pandemic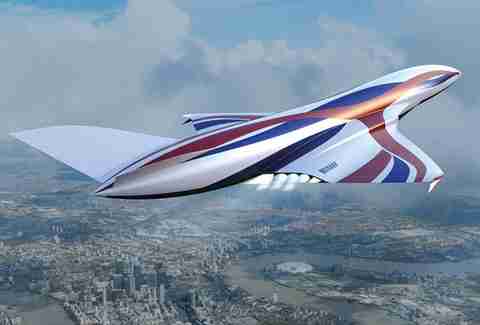 And shockingly enough, the Sabre engine apparently isn't terrible for the environment. The hydrogen and oxygen machinery is a cheaper, environmentally-friendly approach to powering this monstrosity, Stuff reports. They're already in the early testing stages too and slated for in-air test flights by the mid 2020s. 
"The main thing with Sabre is it's like a hybrid of a rocket engine and an aero engine, so it allows a rocket to breathe air... rockets really haven't progressed in 70 years, whereas aero engines have become very efficient," Reaction Engines (they're building the plane, btw) Program Director Shaun Driscoll said at the conference. "So, if you can combine an aero engine and a rocket you can have a very lightweight efficient propulsion system and basically create a space plane. The physics checks out but the challenge is building a test regime." 
h/t Travel & Leisure

Sign up here for our daily Thrillist email and subscribe here for our YouTube channel to get your fix of the best in food/drink/fun.