These Are the Chains With the Fastest Drive-Thrus in the Country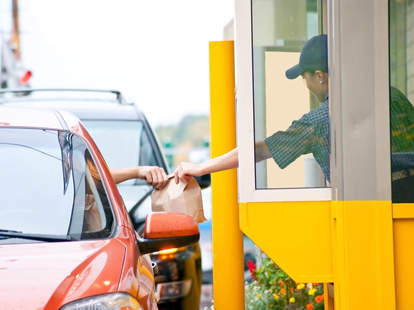 Hitting the drive-thru is usually the move when you're in a hurry and need to eat fast. It's also probably the quickest way to scoop up a Taco Bell Party Pack and an order of 100 Burger King chicken nuggets for your next social gathering. In any case, fast food chains pride themselves on providing lickety-split service to customers behind the wheel. But just which ones actually deliver on their promise? A new study makes it clear by naming the fast food chains with the fastest drive-thru service in the country.
The new rankings come courtesy of the team at restaurant industry publication QSR Magazine, which conducted a study to measure how the most popular fast food chains are doing in terms of drive-thru service. They looked at a number of factors, though perhaps most notably they compared the speed of service, or in other words, how long you can expect to wait on average between placing your order in line from your car and getting your food.
Topping the list this year is Burger King, where the average wait is 3 minutes 13 seconds seconds, followed by Dunkin' Donuts, then KFC. Here's how the speed ranking panned out overall, from slowest to fastest.
10. McDonalds (4 minutes 33 seconds)
9. Chick-fil-A (4 minutes 20 seconds)
8. Hardee's (4 minutes 15 seconds)
7. Carl's Jr. (4 minutes 12 seconds)
6. Arby's (3 minutes 57 seconds)
5. Taco Bell (3 minutes 56 seconds)
4. Wendy's (3 minutes 45 seconds)
3. KFC (3 minutes 38 seconds)
2. Dunkin' Donuts (3 minutes 3 seconds)
1. Burger King (3 minutes 13 seconds)
The study found that drive-thru times have slowed nearly all across the board, with the overall average up by nine seconds. However, it attributes the drop in speed to the fact that drive-thru traffic is up in general. According to the study, most chains report that roughly 70% of their sales are at the drive-thru window, so it makes sense that wait times have somewhat suffered. Also, the study acknowledges that chains seem to be more and more focused on order accuracy (statistics for that are up across the board), which reasonably may require some extra time.
Still, the study indicates that there is a clear effort to streamline the process further. Chains are pushing to incorporate new technology to keep things running faster and more smoothly, including digital menus, artificially intelligent car-scanning that recognizes returning customers' vehicles and suggests previous orders, and mobile ordering systems that help expedite the process and eliminate the need for cars to have to wait in line. But until that tech makes its way into every drive-thru in the country, if you need your combo meal stat right now, your best bet is a stop by BK.
h/t FoodBeast
Sign up here for our daily Thrillist email and subscribe here for our YouTube channel to get your fix of the best in food/drink/fun.