These Are the Fastest-Growing Jobs for Young Professionals Right Now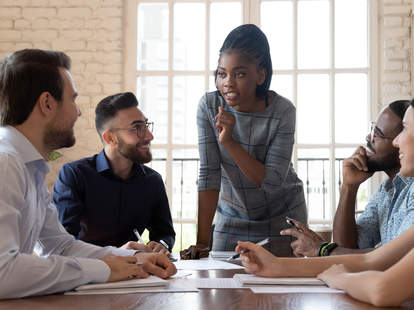 It seems like from the moment you take your first steps, relatives are asking if you've considered the growth potential of the profession you're interested in pursuing. Goo goo, gah gah, you might respond to them, which translates to Dog Show Stylist is my dream job. Just let me risk it all.
Well, your family's got a point, little guy. Not that you shouldn't take a risk. Just check out a new report from personal finance site SmartAsset, which reveals the fastest-growing jobs for young professionals in America, first.
In 2014 there were almost 32 million people between the ages of 25 and 34 working in the United States. That number has risen to 35 million over the past five years, with about 13 million workers in possession of a bachelor's or advanced degree. That's 16% more than workers on average than in 2014. And there are some major outliers with employment growth rates far surpassing 16%, giving hope to the aimless and in-debt everywhere.
To find these results, SmartAsset used Bureau of Labor Statistics (BLS) data from 2014 and 2018 to rank percentage growth by occupation for jobs with greater than 15,000 people in the workforce. All of the people were ages 25 to 34 and had either a bachelor's degree or higher. Here's what they found:
Fastest growing jobs for young professionals in the US:
10. Probation officers and correctional treatment specialists
9. Industrial engineers
8. Computer systems analysts
7. Software developers
6. Physician assistants (tie)
5. Database administrators (tie)
4. Civil engineers
3. Environmental scientists and geoscientists
2. Nurse practitioners
1. Human resources managers
You can find the whole list of 22 here.

Some key findings from the study were surprising, the most notable being that the fastest-growing jobs for young professionals are high-paying ones. That's sick for some of y'all, but also means that dog show stylist is not on there. The jobs that took the top ranking cake were human resources managers, nurse practitioners, physician assistants, and software developers.
Something that probably won't come as a surprise is that tech jobs dominated, earning three of the top 10 spots. Think database administrators, software developers, and computer systems analysts.
The number of human resource manager positions, No. 1 in the ranking, has grown by 33% between 2014 and 2018, but the growth for young professionals alone is a whopping 113%.
Nurse practitioner jobs, the runner up, have increased by 81%. An interesting find is that, between 2014 and 2018, there was an increase of approximately 81% in nurse practitioners between the ages of 25 and 34, and only 58% for females of all ages.
In conclusion, get a degree, consider the job market before you make a decision, and listen to your parents, even when you're a newborn baby without the ability to interpret complex sentence structures.
Sign up here for our daily Thrillist email and subscribe here for our YouTube channel to get your fix of the best in food/drink/fun.