This Map Reveals the States Americans Are Flocking to (and Fleeing)
Boise, Idaho

| Shutterstock/Charles Knowles
Boise, Idaho

| Shutterstock/Charles Knowles
There's a reason states like California, Texas, and Florida together are home to nearly 30% of the United States population -- they're big, relatively warm, and have a lot to offer to a lot of people. But as the country ages, changes, and grows, some unexpected states are becoming more and more popular places to live. That's at least what one takeaway from the latest population stats from from the US Census Bureau.
According to data collected between July 1, 2016 and July 1, 2017, the fastest growing state in terms of population was Idaho, which saw a 2.2% increase in people over the 12 month period. The runner up was Nevada, which saw a 2% uptick, while Utah took the number three spot with a 1.9% increase. Washington state and Florida rounded out the top five.
Here's how the full lineup states (plus Washington, DC) shakes out when ranked from slowest growing to fastest growing.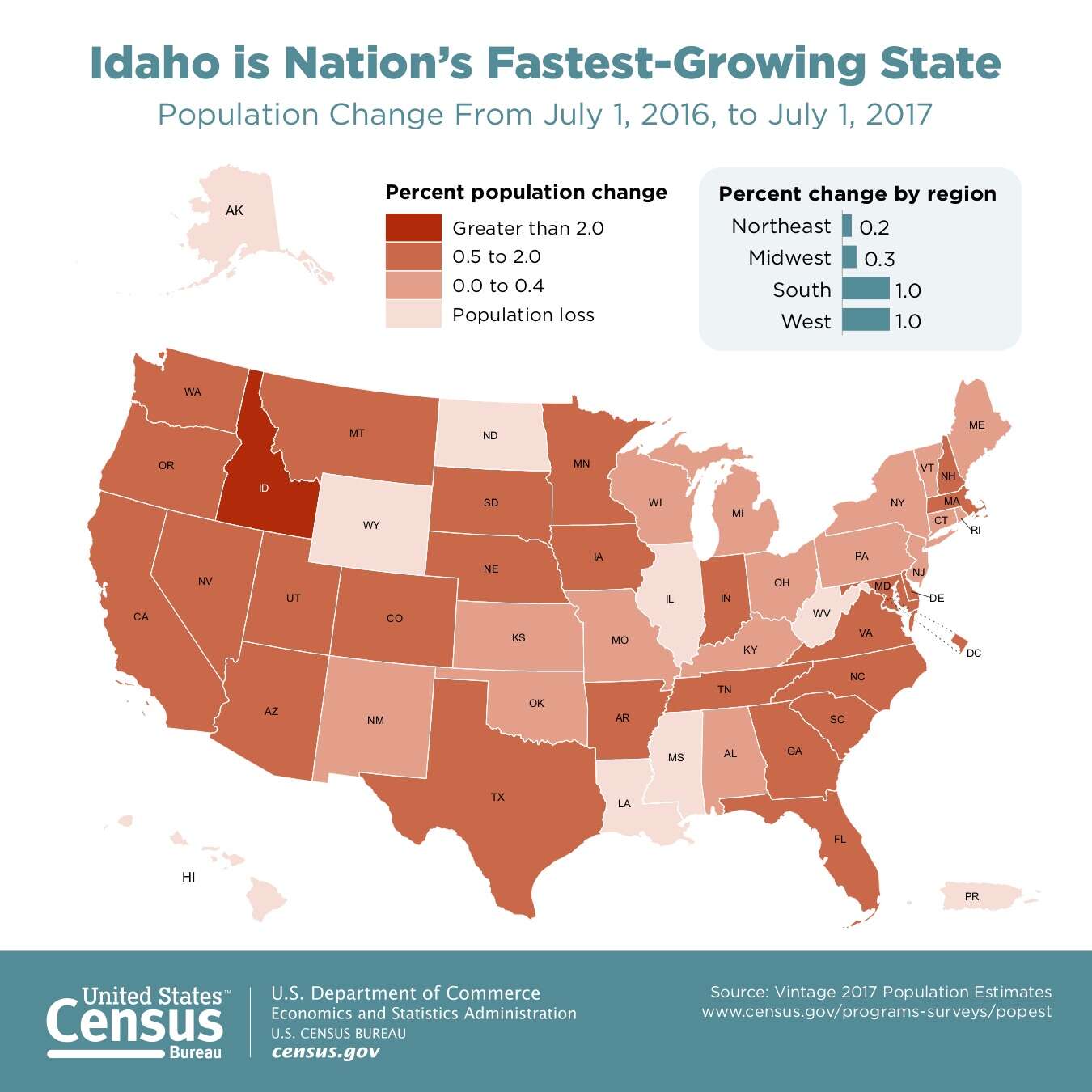 51. Wyoming
50. West Virginia
49. Illinois
48. Alaska
47. Hawaii
46. Mississippi
45. Louisiana
44. North Dakota
43. Connecticut
42. Vermont
41. New York
40. New Mexico
39. Pennyslvania
38. Kansas
37. Rhode Island
36. Oklahoma
35. Michigan
34. Alabama
33. New Jersey
32. Ohio
31. Missouri
30. Wisconsin
29. Kentucky
28. Maine
27. Maryland
26. Iowa
25. Indiana
24. Massachusetts
23. Arkansas
22. New Hampshire
21. California
20. Nebraska
19. Virginia
18. Minnesota
17. South Dakota
16. Delaware
15. Tennessee
14. Georgia
13. Montana
12. North Carolina
11. South Carolina
10. Oregon
9. Colorado
8. Washington, DC
7. Texas
6. Arizona
5. Florida
4. Washington
3. Utah
2. Nevada
1. Idaho
So what caused the growth? According to the Census Bureau, "domestic migration" or people who moved there, was the biggest driver of growth for Idaho and Nevada, while more births than deaths are the reason Utah landed in the no. 3 spot.
Overall, the US population grew by 2.3 million or 0.72% during the same measurement period, while international migration dropped by 1.8% (the first decrease since 2013). And some states saw no growth at all. In fact, eight states -- North Dakota, West Virginia, Hawaii, Alaska, Illinois, Wyoming, Louisiana, and Mississippi -- actually declined in population. It's also worth nothing that Illinois, which had long been the fifth most populous state in the country, has dropped to number six this year, knocked out by Pennsylvania.
Lots of factors lead to these sorts of population shifts, but we can't help but presume people are finally realizing what an affordable and underrated gem Boise is.
Sign up here for our daily Thrillist email and subscribe here for our YouTube channel to get your fix of the best in food/drink/fun.