These Are the States With the Fastest & Slowest Internet Speeds
It won't make you feel better about your home speeds, but these are the states with the best internet speeds.
Shutterstock.com
Shutterstock.com
You may have become far more acquainted with your home internet speed in recent weeks. A lot of people are in the same situation, though, you might have only taken note of those speeds if they really suck.
HighSpeedInternet.com, a site that shows consumers options for internet service providers (ISPs) and tests internet speeds, compiled more than three million speed tests across the United States. It used those to build a ranking of the average speed for every US state.
Though, before the rants commence and you complain about how slow your home speed is despite your state's high ranking: These are averages. That means that different ISPs and areas have been piled together to create an overall portrait of the state. One ISP may be worse than others in your area, but it's all lumped together. So, your state could have some reliable speeds in these tests, and your home service could be moving slower than a CSPAN broadcast. Both things can be true.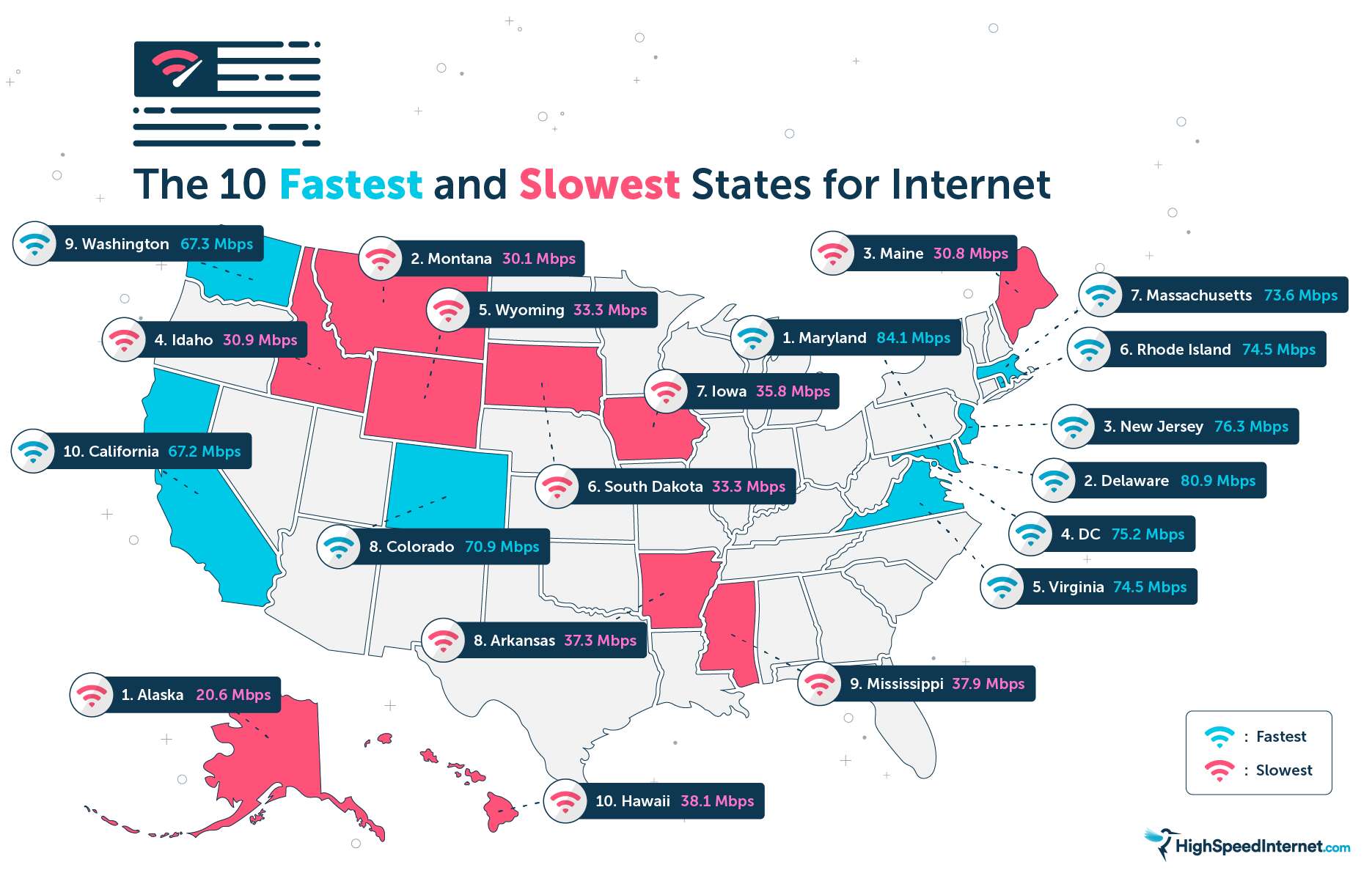 States with the fastest internet speeds, based on HighSpeedInternet.com tests.
1. Maryland (84.1 Mbps)
2. Delaware (80.9 Mbps)
3. New Jersey (76.3 Mbps)
4. D.C. (75.2 Mbps)
5. Virginia (74.5 Mbps)
6. Rhode Island (74.5 Mbps)
7. Massachusetts (73.6 Mbps)
8. Colorado (70.9 Mbps)
9. Washington (67.3 Mbps)
10. California (67.2 Mbps)
States with the slowest internet speeds, based on HighSpeedInternet.com tests.
1. Alaska (20.6 Mbps)
2. Montana (30.1 Mbps)
3. Maine (30.8 Mbps)
4. Idaho (30.9 Mbps)
5. Wyoming (33.3 Mbps)
6. South Dakota (33.3 Mbps)
7. Iowa (35.8 Mbps)
8. Arkansas (37.3 Mbps)
9. Mississippi (37.9 Mbps)
10. Hawaii (38.1 Mbps)
Maryland topped the company's list for the second straight year, with Delaware and New Jersey having strong multiple years in a row. The speeds listed represent a broad range of locales, with the national average in these tests coming in at 59.5 Mbps. In broad terms, you see states with more rural and remote locations ranking poorly.
No matter what state you're calling home, any list like this will be a miserable salve when you're frustrated with the speed you're getting at home.
Sign up here for our daily Thrillist email and subscribe here for our YouTube channel to get your fix of the best in food/drink/fun.