This Map Reveals the Most Popular Snacks in Every State
Oreo scored the coveted number one slot in five different states.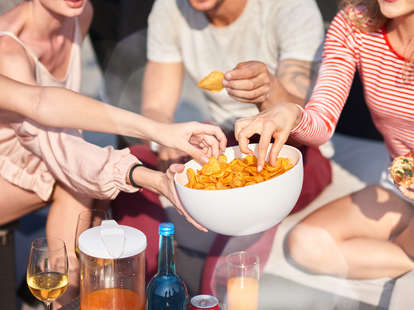 While I've personally got a very firm stance on the salty versus sweet debate, everyone's entitled to their own opinion -- especially when it applies to snacking. Using Google Trends, career site Zippia compiled a ranking of each state's favorite snacks and that whole "one man's trash is another man's treasure" phrase has never been more fitting.
The platform examined 45 different snack foods and determined which states had the biggest fans. See the map and list below to determine whether you're more of an Alaska, Hawaii, New York, or Wisconsin.
Here's the full list of the top snacks in each state:
Alabama: Ruffles
Alaska: Granola bars
Arizona: Cheez-Its
Arkansas: Doritos
California: Cheetos
Colorado: Cosmic Brownies
Connecticut: Oreos
Delaware: Fritos
Florida: Mini Doughnuts
Georgia: Lay's chips
Hawaii: Oreo
Idaho: Clif Bars
Illinois: Skinny Pop
Indiana: Pringles
Iowa: Pringles
Kansas: Nutter Butter
Kentucky: Fritos
Louisiana: PayDay
Maine: Ritz Crackers
Maryland: Oreos
Massachusetts: Crunch Bar
Michigan: Sour Patch Kids
Minnesota: Snickers
Mississippi: Twinkie
Missouri: Grandma's Cookies
Montana: Rice Krispies Treats
Nebraska: Fritos
Nevada: Kit Kat
New Hampshire: Almond Joy
New Jersey: Oreo
New Mexico: Beef Jerky
New York: Chips Ahoy!
North Carolina: Starburst
North Dakota: Sunflower seeds
Ohio: Starburst
Oklahoma: Sour Patch Kids
Oregon: Kettle chips
Pennsylvania: Hershey's
Rhode Island: Ritz Crackers
South Carolina: Salt And Vinegar Chips
South Dakota: Milky Way
Tennessee: Baby Ruth
Texas: Funyuns
Utah: 3 Musketeers
Vermont: Muffins
Virginia: Oreos
Washington: Cheez-Its
West Virginia: Lay's
Wisconsin: Twix
Wyoming: Sunflower seeds
"Sweet wins over salty -- 29 states' favorite snack is sweet," Zippia asserts in its findings. As always, take these results with a gram of sodium, as the site also claims that, "across the country, and around the clock, hungry workers are crinkling chip wrappers at their desks or jamming quarters into vending machines to get their favorite candy bar." We have a feeling those vending machines are seeing a little less action these days.
Sign up here for our daily Thrillist email and subscribe here for our YouTube channel to get your fix of the best in food/drink/fun.
Megan Schaltegger is a staff writer at Thrillist.