The FBI Mysteriously Shut Down an Observatory in New Mexico and You Can Scream About Aliens Now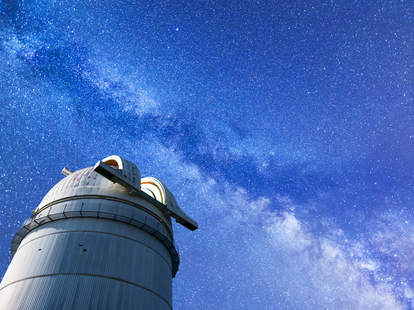 New Mexico's Sunspot Observatory has found itself in the middle of what can only be likened to an episode of the X-Files: swarming FBI agents, a Blackhawk helicopter circling overhead, and unanticipated media attention. 
Due to an unspecified "security issue" at the observatory reported to the FBI, the facility is closed pending an investigation. Adding an air of mystery to the situation, local law enforcement have been conspicuously shut out of the investigation, according to a report from the Alamogordo News. 
According Universities for Research in Astronomy (AURA) spokeswoman Shari Lifson, the observatory is closed indefinitely: "We don't know that yet [when the facility will open again]," Lifson told the paper. "We are working with the proper authorities on this issues. The local authorities do know and are aware of the situation. I don't know when the facility was vacated but it was within the last day. It's a temporary evacuation of the facility. We open it up as soon as possible."
But let your imagination run wild. The space research facility is in the same state as Roswell, the city notorious for its encounters with extraterrestrial life. It's also been swarmed by FBI agents, while local law enforcement has been kept at an arm's distance. According to Sheriff Benny House, there's been a "Blackhawk helicopter, a bunch of people around antennas and work crews on towers but nobody would tell us anything."
Whatever the case may be, the truth is most certainly out there. 
House was quick to emphasize his confusion, and told reporters that he eventually called his team to head home considering the scant information: "The FBI is refusing to tell us what's going on," House said. "We've got people up there (at Sunspot) that requested us to standby while they evacuate it. Nobody would really elaborate on any of the circumstances as to why. The FBI were up there. What their purpose was nobody will say."
Popular Mechanicspoints to a few potential causes of the unforeseen shutdown, like a chemical leak or "other natural danger." Still, the story is strange and disconcerting to say the least.
Sign up here for our daily Thrillist email and subscribe here for our YouTube channel to get your fix of the best in food/drink/fun.
 
Sam Blum is a News Staff Writer for Thrillist. He's also a martial arts and music nerd who appreciates a fine sandwich and cute dogs. Find his clips in The Guardian, Rolling Stone, The A.V. Club and Esquire. He's on Twitter @Blumnessmonster.