This Map Shows the Popularity of Fidget Spinners Nationwide
Unless you've been living in a wifi-deprived cave 1,000 miles away from the nearest middle school, you're imminently aware of fidget spinners -- the latest viral sensation to rhapsodize kids across the country. The toys are handheld gadgets that spin around like a top, traditionally meant to help adolescents with attention deficit issues. Now though, they're cropping up in school yards and Snapchat stories alike, descending upon our collective psyche like a teenage plague.
But where is the fidget spinner epidemic the worst? The e-commerce data firm Slice Intelligence mapped the distribution of the toy in 3,000 counties, citing e-receipts from people who purchased them online this year. According to the report, middle America has the highest concentration of fidget spinners per state, with a solid amount of use appearing in the south. Texas is a prime culprit, but by the looks of the heat map, Florida looks like 7th layer of fidget spinner hell. Utah -- which loves good, clean fun -- is also a major hot spot, as the state "has seen the highest number of spinners sold per capita in 2017, with four spinners sold online for every 100 residents."
Kids in big cities haven't let the trend escape them, because urban centers on the east coast are teeming with fidget spinners. As the data implies: "East coast urban centers prove to be the densest regions in America. New York dominates with Miami and Chicago following close behind." Weirdly, the toy seems to proliferate in Washington state but barely register in California, despite a shared affinity for legal weed uniting the two states.
Fidget spinner sales have soared this month, with a 39% increase occurring in the first two weeks of May compared with the rest of the year. Consumers typically bought two spinners at a time, spending $10.03 per toy when they shelled out for the product, according to Slice data. While the data only delivers a snapshot, it might provide a fleeting look at a toy craze that'll probably die down in the coming months, until the next viral smash rises from the fidget spinner's ashes. Whatever that may be, let's just hope it's not this.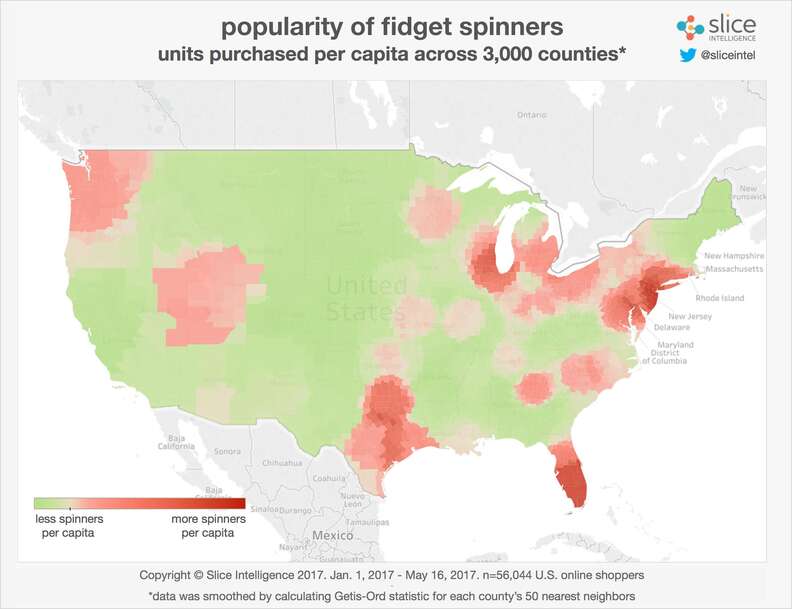 Sign up here for our daily Thrillist email, and get your fix of the best in food/drink/fun.
Sam Blum is a News Staff Writer for Thrillist. He's also a martial arts and music nerd who appreciates a fine sandwich and cute dogs. Find his clips in The Guardian, Rolling Stone, The A.V. Club and Vice. He's on Twitter @Blumnessmonster.