You Can Get Two Tickets to Fiji for the Price of One Right Now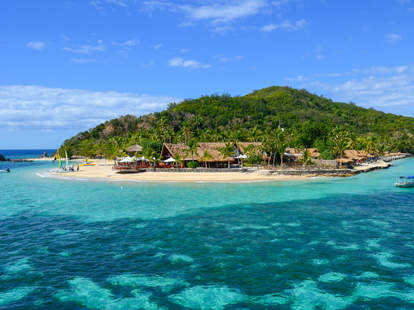 Every day we slide deeper into winter and all that comes with it -- being cold, being inside, listening to music from further and further into your past -- and you owe it to yourself to put a stop to all of that. The best way is getting the hell out of wherever you are and off to Fiji -- where it is warm and you can listen to the ocean instead of pop-punk.
Right now, you can get two tickets to Fiji for the price of one. That's great news because you don't even have to use the trip to find yourself; you can just go with your best friend and behave exactly like you normally do, but in Fiji instead of at happy hour. This miraculous deal is through Fiji Airways' Great Companion Getaway sale, but the name isn't really important. 
If you're in Australia, New Zealand, or the United States, you're eligible, but you better figure out who you're bringing fast. The deal lasts from January 12 to January 19, and the trips only happen between January 21 and March 31. Flights depart from Los Angeles, San Francisco, or Honolulu in the United States, and Sydney, Brisbane, Adelaide, Melbourne, Auckland, Wellington, and Christchurch in Australia and New Zealand. All land in either Nadi or Suva.
The only question is whether you'll be treating your friend to a free trip or splitting the price of one ticket. We're sure you'll pick what's best for you.

Sign up here for our daily Thrillist email and subscribe here for our YouTube channel to get your fix of the best in food/drink/fun.