Everywhere You Can Get Free and Cheap Food for the First Day of Fall
Yeah. It's the first day of fall on September 22. Everyone acts like it's Labor Day, but that's just part of Big Pumpkin's plot to extend fall's dominion.
Yesterday was summer. Now it's fall. Sorry, you missed out on the opportunity to have so much more summer ice cream than you thought was possible. However, you are free to celebrate fall's arrival with leaf peeping and cheap food deals from restaurants that want to welcome fall with open arms.
Here's a running list of all the places offering free and cheap food for the arrival of one of the year's top four seasons.
Free Food for the First Day of Fall
Bruegger's Bagels
The deal: When you're grabbing that morning starch ring, grab a free coffee. Bruegger's is offering a free coffee with any purchase. 
When: September 22-29
Jimboy's Tacos
The deal: It has nothing to do with fall, but first responders, active military, firefighters, police, and EMTs can pick up a free ground beef taco or vegetarian taco this month by flashing their ID.
When: September 1-30
Bonefish Grill
The deal: Pick up a free appetizer with the purchase of any two entrées. Though, you're going to have to bring in a coupon like it's the '80s, and the deal doesn't include the large sashimi appetizer.
When: September 18-30
Arby's
The deal: It's not food, but Arby's is giving out free Arby's-themed tattoos because ... because ... oh, I don't know. Here are the details. 
When: September 22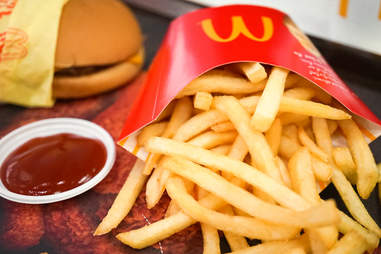 enchanted_fairy / Shutterstock.com
Food Deals for the First Day of Fall
Quiznos
The deal: If you're a member of the sub shop's loyalty program you'll get a coupon for a 99-cent cup of soup. It's arguably not a meal, but good soup is inarguably one of the best parts of fall.
When: September 22
Godiva
The deal: In anticipation of National Ice Cream Cone Day, buy a cone at a Godiva shop and get your second one for half off. 
When: September 20-22
Dairy Queen
The deal: Use the DQ app and find a deal that will land you a burger and a Blizzard for just $4. (And don't forget you can get a free Blizzard for signing up for the app if you're a new user.) Additionally, in honor of the first day of fall, Dairy Queen is launching its first-ever fall Blizzard menu with a Pumpkin Pie Blizzard, Oreo Hot Cocoa Blizzard, and more. 
When: Ongoing
McDonald's
The deal: Lovers of starch rejoice! McDonald's is offering free fries on Fridays and $1 sandwiches any day from now through September 30. Both deals can be dug up on the McDonald's mobile app.
When: Ongoing, but frequency varies by deal
PintPass
The deal: This app asks you to answer a couple questions about brewery taprooms when you stop by for a beer. In exchange for your time, they're buying you a round. Get all the details on grabbing free beers through PintPass here.
When: Ongoing
Wendy's
The deal: There is a lot to take advantage of here. First, Wendy's is offering free burgers with any purchase all month-long.  Also, for a limited time, you can treat yourself to a 50-cent Frosty. Though, science says you're probably going to want some fries with that. (Non-science says you can get it all delivered for free because Wendy's is offering free delivery every weekend through November.)
When: Ongoing
Panda Express
The deal: To celebrate the glorious return of the Panda's Honey Sesame Chicken Breast, get $3 off any online order of $5 or more with the code "HONEYISBACK." It's not free, but it's better than Bee Movie.
When: Through October 31
More Deals?
Did we miss some deals? Email us at news@thrillist.com and we'll add 'em here.
Want more free food and food deals? Here's our running list of all the
free food
you can get right now. We even have a roundup of
the best pizza deals
you can get from national chains. You're welcome.
Sign up here for our daily Thrillist email and subscribe here for our YouTube channel to get your fix of the best in food/drink/fun.

Dustin Nelson is a News Writer with Thrillist. He holds a Guinness World Record but has never met the fingernail lady. Follow him @dlukenelson. dnelson at thrillist dot com