This math problem, supposedly intended for first graders, has completely stumped adults.
The question has spread across social media after appearing on a message board earlier in the week. The problem is allegedly a bonus question taken from a first-grade level test in Singapore. Yet, many first grade graduates are stumped. 
The bonus question asks students to "study the number pattern" and "fill in the missing numbers." The problem is a circular puzzle containing five numbers. Four empty circles surround the puzzle and are meant to be filled in based on the pattern created by the five numbers.
Recommended Video
Thrillist's Best (and the Rest): Traveling With a Partner vs. Traveling in a Big Group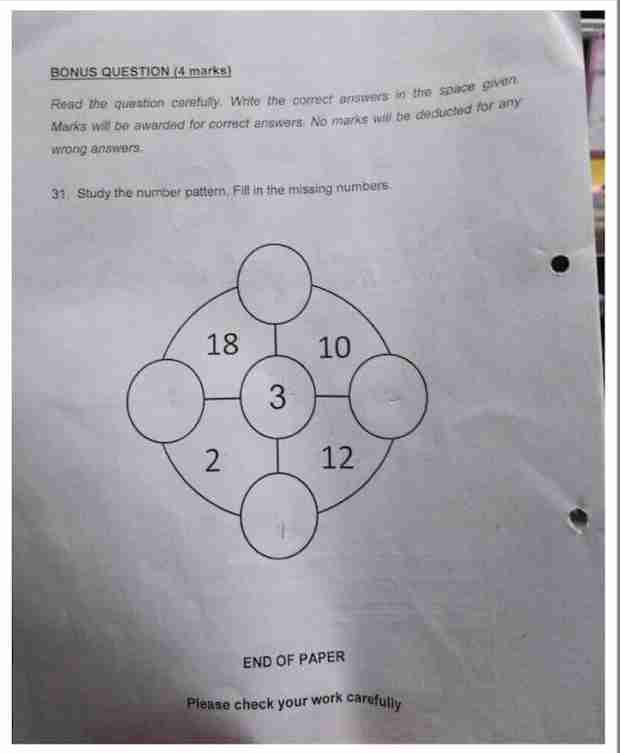 Frustratingly, there's no easy answer. Many have offered guesses, but no clear answer has surfaced. One user skips the complex equations and suggests a simple answer. The user submits one possible solution is that the numeral in each blank circle should equal the number of double-digit quadrants the circle touches.
Mashable contacted Singapore's Ministry of Education to verify the source. The Ministry wasn't much help. "From the image, we are unable to ascertain if the question was from a school's Primary 1 examination paper," it responded.
The publication also notes a striking similarity to a puzzle posted by Gordon Burgin, an author of math puzzles. The answer to his puzzle is too complicated for the average first grader. But the similarity between the puzzles is so pronounced it seems like this is all just a sadistic ploy. Good luck.
h/t Mental Floss
Sign up here for our daily Thrillist email, and get your fix of the best in food/drink/fun.