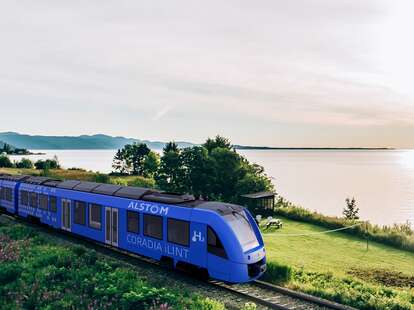 Photo courtesy of Train de Charlevoix
The sustainability train is finally here, and you'd better, quite literally, hop on it.
This summer, starting June 9 and continuing through October 22, North America's first-ever zero-emission train, dubbed the Train de Charlevoix, is set to debut in Québec, Canada, The Independent reports.
Running on green hydrogen and emitting only water vapor, it transports travelers without releasing harmful emissions or chemicals into the environment. The train will connect Parc de la Chute-Montmorency (located just outside of Québec City) and the town of Baie-Saint-Paul. It will run on Wednesdays through Saturdays.
According to Railway Technology, the zero-emission train first went into commercial operation in Germany in 2018. The train carries a maximum speed of about 86 miles per hour.
In addition to bringing passengers along for a 90-minute ride, the Train de Charlevoix offers other features for sustainability-focused travelers. Throughout the summer, the train will offer an eco-agro tourism tour, where a guide will allow passengers to partake in local breweries and to peruse sustainable goods across three different stops.
The schedule for the eco-agro tourism is pretty simple, and you will only need to worry about tasting your favorite beers and products. At 9 am, the hydrogen train will depart the station of Montmorency Falls, and passengers will be treated to a scenic ride for two and a half hours.
Once they reach the Baie-Saint-Paul train station, the real fun will begin. At noon, the three-stop tour will begin, and visitors will get the chance to do tastings of 15 different products (which is about 26 to 30 tasting portions per person). At 3 pm, the train will depart again, and will bring visitors to Chute Montmorency station by 6:30 pm.
For more information and to reserve your tickets, you can visit this website.