This Robotic Fleshlight Is the Epitome of Laziness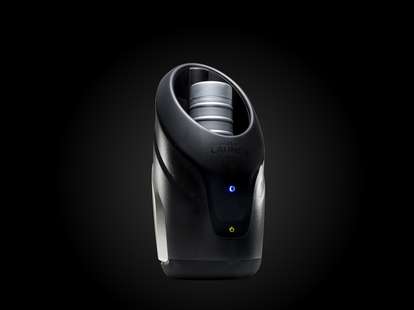 Fleshlight/Kiiro
Fleshlight/Kiiro
Meet the future of masturbation. Or, at least, the future of masturbation for some people. Makes of the popular sex toy Fleshlight and tech company Kiiroo have teamed up for an automated sex toy for men, solving a problem you may not have been aware some people have. The Fleshlight Launch will masturbate for you.
The Launch is being called the first "fully automated male masturbator" and that description gives you a pretty solid framework for how this works. The product debuted over the weekend at SXSW and can be used by inserting any existing Fleshlight into the champagne bucket-like device.
"[The Launch] is the first truly innovative and aesthetically pleasing product of its kind created to date, without a doubt," says Steve Shubin, co-founder of Fleshlight. The Launch is an impressive bit of technology and it's priced accordingly. It retails for $200. It also seems, at least looking solely at the specs, as though it may be a bit bulky, measuring a foot tall and six inches across. But for many men, size doesn't matter. It's about what the masturbating robot does that matters.
The device has a manual mode, which isn't really all that manual. It allows you to set the speed, duration, and positioning of the movement. If messing with settings isn't your thing, it also has an interactive mode that allows the device to sync via Bluetooth with videos and VR.
The interactive setting conjures images of a future world that's just a rather lewd version of Wall-E where humans are simply done doing any work at all. I quit. Hook me up to the thing.
On the other hand, men have done stranger things with their nethers hoping for the same result.
Sign up here for our daily Thrillist email, and get your fix of the best in food/drink/fun.
Dustin Nelson is a News Writer with Thrillist. He holds a Guinness World Record but has never met the fingernail lady. Follow him @dlukenelson.