Happy Baking Season, 2 Flours Recalled Due to Possible E. coli Contamination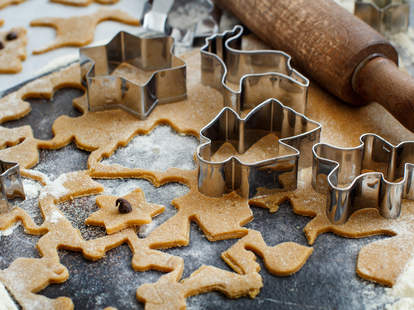 Baking is arguably the best holiday tradition, namely because crushing a half dozen Santa-shaped sugar cookies (and a bottle of Pinot with it) isn't just allowed, it's encouraged. But this year, you might wanna stick to the candy canes because two different flour products were just recalled due to possible E. coli contamination. 
On November 27, the US Food and Drug Administration (FDA) issued a recall for batches of Hodgson Mill Unbleached All-Purpose White Wheat Flour and UNFI Wild Harvest Organic Unbleached All-Purpose Flour. No, this isn't like your mom's failed attempt to scare you off raw cookie dough with Salmonella threats. According to the FDA, the recalls were voluntarily issued after the bacteria was found when tested. Thankfully, there have been no confirmed illnesses linked to the flour, but the FDA has warned consumers to steer clear of the potentially risky products.
The Hodgson Mill's flour includes a best by date of October 1, 2020 and October 2, 2020, as well as lot codes 001042 & 005517. Meanwhile, UNFI's Wild Harvest flour has a best if used by date of January 8, 2020 and UPC code of 711535509158. 
Though the FDA does point out that E. coli is "killed off" in the baking, frying, sautéing, and boiling process, maybe don't risk it. 
"Symptoms of pathogenic E. coli illness include acute, often bloody diarrheal illness and abdominal cramps," the recall statement said. "Most people recover within a week. However, children, the elderly, and immunosuppressed individuals may develop hemolytic uremic syndrome (HUS), a severe illness which may cause the kidneys to fail."
If you come across the affected flour, return or simply toss it out. If you experience any of those symptoms, hit up your doc.
h/t Delish