Here's How Popular Food Delivery Services Are Tackling Coronavirus Concerns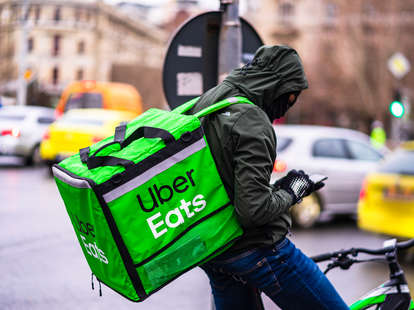 Vlad Ispas/shutterstock.com
As the coronavirus outbreak continues to spread, it's becoming increasingly clear that our health is also within the hands of our community, businesses, and the services we rely on every day. Of course, travel companies such as major airlines and cruises are making significant changes in response to the deadly virus, but what about the food delivery services with armies of delivery people in every major city?
Services like Grubhub/Seamless, Uber Eats, and Postmates play a huge part in the way many of us eat. That's why we reached out to several of these companies to find out what measures they're taking to ensure our food passes through clean hands, how they're enforcing safety procedures among their own workforces, and what other steps they're taking as the outbreak worsens.
Not every company was forthcoming when asked about their response to coronavirus, and to be clear, their responses will likely change as the situation unfolds. This is what we know so far:
Uber Eats
On February 28, Uber Eats issued information to drivers across the globe with helpful tips on how to stay safe and healthy based on available information from the Centers for Disease Control and Prevention (CDC). Uber also has a global Law Enforcement Response Team that works with public health officials and local governments to ensure guidelines are being followed.
"We are always working to help ensure the safety of our employees and everyone on the Uber platform, and we continue to be concerned by the ongoing spread of coronavirus. We have formed a dedicated global team of Uber operations, security and safety executives, guided by the advice of a consulting public health expert, to respond as needed in each market where we operate around the world," a spokesperson for Uber Eats told Thrillist. "We remain in close contact with local public health organizations and will continue to follow their recommendations."
Grubhub/Seamless
A spokesperson for Grubhub, which owns Seamless, provided the following statement to Thrillist: "This is obviously a complex and fast-moving situation. We are focused on prioritizing the health and safety of our drivers, diners, restaurant partners and employees during this challenging time. We will continue to monitor the situation closely, including assessing and analyzing the potential impact on our business."
As of now, Grubhub and Seamless are offering no-contact delivery options. Additionally, Grubhub is spearheading an initiative to provide financial relief to many of its partnered restaurants. Grubhub has announced that they will be "suspending collection of up to $100 million in commission payments," according to a press release.
"Independent restaurants are the lifeblood of our cities and feed our communities. They have been amazing long-term partners for us, and we wanted to help them in their time of need," Matt Maloney, Grubhub's founder and CEO, said in a statement. "Our business is their business -- so this was an easy decision for us to make." Grubhub says they will continue to monitor the situation and identify which funds need financial support most.
Postmates
Postmates is giving customers the option to have non-contact deliveries if they desire. This means instead of meeting delivery drivers curbside or at the door, food will be left for pick-up. Additional information about non-contact orders can be found here.
Additionally, a Postmates spokesperson shared this statement: "Community health and safety is paramount at Postmates, and we have shared precautionary CDC guidance with our Postmates; customers have an option to designate the drop-off of item without contact; and will continue to encourage employees, merchants and consumers to follow preventative measures. While we are operating with business as usual, we are tracking the situation closely and will help provide the resources necessary to mitigate increased risks."
DoorDash/Caviar
A spokesperson for DoorDash, which also owns Caviar, released a statement to Thrillist saying, "The safety and health of our community of employees, merchants, and Dashers is always our top priority. We are closely monitoring this situation and have shared the CDC guidelines with Dashers and merchants. We will remain in close contact with them as we learn more."
The company's website includes a page about how to protect yourself and others from COVID-19 as well as a courier support page that outlines tips for delivery people to maintain safety.
In addition to monitoring the situation, DoorDash has "begun distributing hand sanitizer and gloves" to their Dashers and begun testing zero-contact delivery, according to a community health and safety email update sent from the company. If you prefer to have a no-contact delivery, you can make the request in the delivery instructions as of now. A more streamlined option to select no-contact delivery will be available within the coming days.
Delivery.com
In an email to customers, Delivery.com CEO Jed Klecknersaid said the company is "closely monitoring updates surrounding COVID-19, Coronavirus, from health officials and are in constant communication with our merchants and local markets. We're committed to delivering the food and goods you love, wherever you are."
As of now, customers can request whether or not they'd prefer a no-contact delivery by specifying in the Special Requests field of the order form. More information regarding specialized deliveries can be found here.
Sign up here for our daily Thrillist email and subscribe here for our YouTube channel to get your fix of the best in food/drink/fun.
Kat Thompson is a staff writer at Thrillist. Follow her on Twitter @katthompsonn.