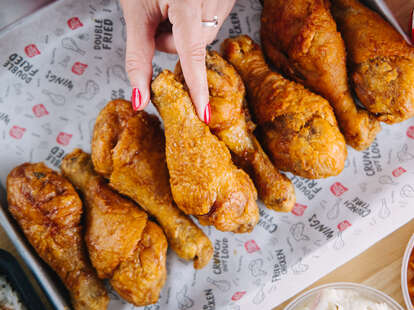 Image courtesy of Bonchon
Editor's Note: Information listed here may be subject to change depending on the developing situation with COVID-19's Omicron variant. Please check for the latest updates available or contact each establishment directly for more info.
There are a whole lot of reasons you might be thinking about ordering food (and alcohol) delivery more often than usual.
If that's how you're getting through the week, then here's a bit of great news. Lots of chains and delivery services are offering free, reduced-price delivery, and other delivery deals right now. We've collected those offers into a single space, which will be updated regularly, so you can keep an eye on what your best options are. That said, we'd encourage you to be extra kind to anyone delivering food, tip generously, and support your favorite local businesses. Additionally, when ordering, consider ordering directly from the restaurant rather than using a delivery service whenever possible. (Especially when you're ordering from a local restaurant.) Delivery services charge a fee to restaurants and, during a tough time, not having to pay those fees can make a big difference for your local restaurant.
Here's our running list of the best delivery deals you'll find right now.
Where to get free food delivery
Bonchon
The deal: Get free delivery when you order through the Bonchon website or app.
When: Through January 31
Popeyes
The deal: You can get your craving for that chicken sandwich fulfilled. Popeyes is offering free contactless delivery through its app with a minimum $20 order.
When: Ongoing
Starbucks
The deal: Order delivery through Uber Eats and you'll get a $0 delivery fee. (Though, there may still be an order fee involved.) If you decide to not get it through Uber Eats, the ubiquitous coffee chain is offering a free drink to anyone signing up for the Rewards Program for the first time.
When: Ongoing
Taco Bell
The deal: On March 28, the bean-slinging chain announced that it will expand its free delivery option through Grubhub. You can get free delivery on any delivery order of at least $12 if it's your first order.
When: Ongoing
Del Taco
The deal: The code "DELTACONOW" will get you free delivery with no minimum order through Postmates.
When: Ongoing
Boston Market
The deal: Get free delivery when you order through the Boston Market website or the chain's mobile app.
When: Ongoing
Dickey's Barbecue Pit
The deal: Get free delivery when you order online through the Dickey's site or mobile app when you select the "Doorstep Drop Off" option.
When: Through September
Romano's Macaroni Grill
The deal: It's free delivery! Woo hoo!
When: Ongoing
Buca di Beppo
The deal: Get free delivery through its delivery partners in Grubhub, Uber Eats, DoorDash, and Postmates.
When: Ongoing
Capriotti's Sandwich Shop
The deal: Place your order through the sandwich shop's website to get free delivery.
When: Ongoing
Jeni's Splendid Ice Creams
The deal: If you order at least four pints of ice cream, you get free delivery as long as you buy directly from the Jeni's website. Orders through Postmates will not get the same deal.
When: Ongoing
Rubio's Coastal Grill
The deal: Place an order directly through the Rubio's app or Rubios.com to get free delivery on an order of at least $20.
When: Ongoing
Torchy's Tacos
The deal: Get a $0 delivery fee through DoorDash right now.
When: Ongoing
Blaze Pizza
The deal: Get free delivery through Postmates if you hit the order minimum of $15.
When: Ongoing
Insomnia Cookies
The deal: The late-night cookie shop is now offering free local delivery and has reduced the shipping cost on its Sugar Rush boxes. Each Sugar Rush sale will result in a $1 donation to the American Red Cross.
When: Ongoing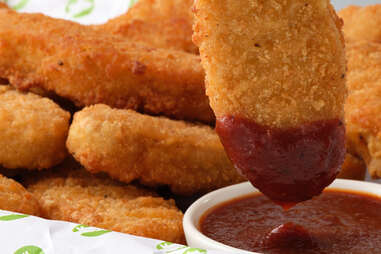 Other Food Delivery Deals
GoPuff
The deal: New users to the convenience store delivery service will get $10 off their first two orders with the code "GET20." Though, you're going to have to hit the $20 order minimum both times.
When: Ongoing
Jamba
The deal: Toss in one of Jamba's Functional Boosts for free with every smoothie order through the app.
When: Ongoing
Dickey's Barbecue Pit
The deal: Kids can get free Texas-style barbecue on Sundays with all delivery and carryout orders when you use the code "KEFOLO" and order at least one entrée. And boy, oh, boy do kids love Texas-style barbecue.
When: Every Sunday
More Delivery Deals?
Did we miss some offers? Let us know about them at news@thrillist.com with "Delivery Deals" in the subject line, and we might include it here.
Want More Free Food?
Here's our huuuuuuuge running list of all the free food you can get right now, as well as the best pizza deals, reward programs, birthday freebies, gift card offers, deals on food for kids, food delivery offers, and alcohol delivery deals you'll find. If you want a little more than, say a free taco, we also have you covered with a long list of meals you can get at fast food chains under $5. You're welcome.
Additionally, we've put together a list of places offering free food to healthcare workers and first responders during the COVID-19 outbreak.