'Footy McFoot Face' Might Be The Name of a New Pro Soccer Team
The legacy of Boaty McBoatface -- the name of an underwater drone soon to embark on its maiden voyage in the Arctic -- is back again, this time in an online poll tasked with naming a new professional soccer team. In the hopes of luring a Major League Soccer franchise to their town, members of Soccercity San Diego's Facebook page are crowdsourcing suggestions to name their hypothetical club. It's just that "Footy McFoot Face" is scoring all the goals.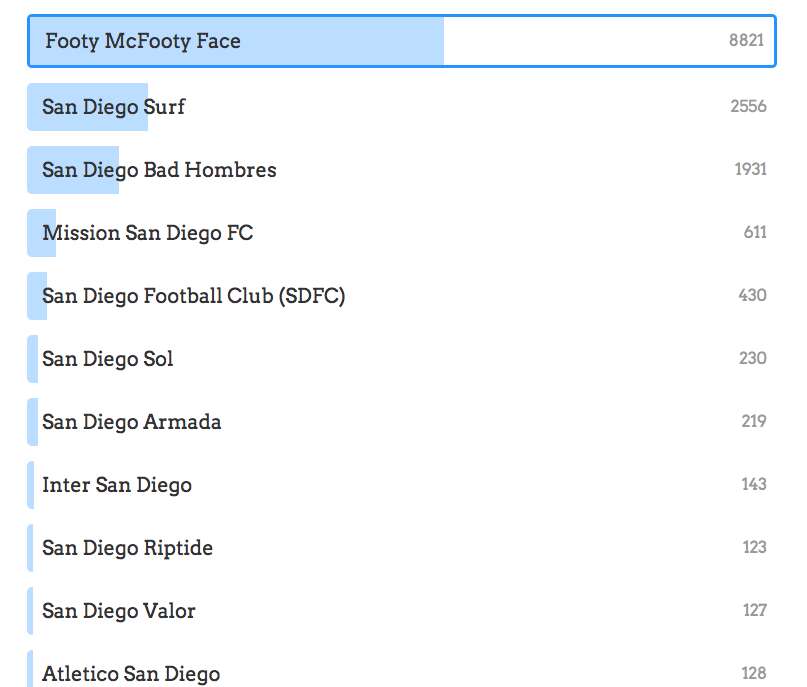 Forget San Diego Surf, San Diego Football Club, or even Inter San Diego, because the possibility of a meme-inspired MLS team is clearly transfixing the public. For those of you unaware of the history: Boaty McBoatface was born last year when Britain's Natural Environment Research Council let the internet name a polar research ship in an online vote. The public jumped at the opportunity, coining the name in a victory for keyboard warriors everywhere. Organizers didn't keep their promise though: The ship was eventually dubbed the RSS David Attenborough -- but an autonomous drone submarine kept onboard the ship was given the moniker as a consolation. Thus, a legend was born.
It's unclear if Footy McFoot Face really stands a chance of gracing the jerseys of San Diego's soccer team. Hell, we don't even know if sun-soaked city will be awarded a team at all. The MLS' expansion project, which will ultimately see the league expand to 28 cities across North America, was announced in January. MLS is eyeing Charlotte, Cincinnati, Detroit, Nashville, Raleigh/Durham, Sacramento, St. Louis, San Antonio, San Diego and Tampa/St. Petersburg as potential marketplaces. Currently, there are 22 teams.
But the candidacy of Footy McFoot Face soldiers on -- thanks largely to a major push on Reddit. Fans have selected the name far more than any other option, as it's tallied upwards of 8,820 votes as of this writing. The nearest competition -- the much more languid sounding "San Diego Surf" -- has only drawn 2,556 votes.
The contest is open until March 31, at which point MLS will be given the top 10 names for an official review. This means you should probably participate, and implore all of your friends to send Footy McFoot Face into the record books -- and hopefully a soccer stadium near you.
Sign up here for our daily Thrillist email, and get your fix of the best in food/drink/fun.
Sam Blum is a News Staff Writer for Thrillist. He's also a martial arts and music nerd who appreciates a fine sandwich and cute dogs. Find his clips in The Guardian, Rolling Stone, The A.V. Club and Vice. He's on Twitter @Blumnessmonster.