Putting Marijuana up Your Vagina Apparently Reduces Period Pains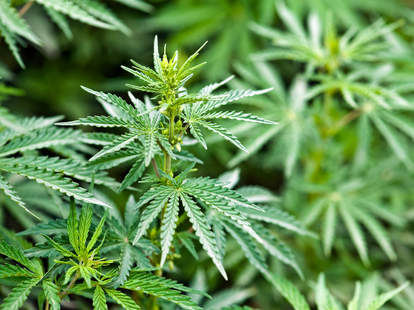 For all the reasons a woman might have drugs up her vagina, first is likely drug smuggling. Somewhere near the bottom: because she has cramps.
Until now.
Foria, the company that makes such game-changing products as that cannabis lube that gives girls super intense orgasms, is once again helping out womankind by creating Foria Relief, a vaginal cannabis suppository meant to relax muscle pain. Now, just to be clear, it does not get you high. Instead, these suppositories have been  "carefully crafted to maximize the muscle relaxing and pain relieving properties of cannabis without a psychotropic (high) effect." The listed ingredients are: Organic Cocoa Butter, CO2 Distilled THC Oil, and CBD Isolate.
According to the makers, THC and CBD work together to reduce pain in the pelvic region. The THC affects the nerve-endings of the uterus, cervix, ovaries, and muscle tissue, getting rid of that pain. Meanwhile, the CBD helps the immune system, suppressing inflammation and slowing down electrical signals to muscles, which allows those muscles to relax. All sounds a hell of a lot better than finishing off the bottle of Midol.
Here's what one reviewer, Keely S., had to say about the product: "I woke up this morning in a lot of pain due to menstrual cramps and immediately used the product. I have always really struggled with the incredible pain of cramps and this has definitely been the most effective method in ridding the pain."
Now, that kind of relief don't come cheap, or easy. There are some stipulations as to how and where you can get these things, being that not every state loves cannabis. You have to register to join Foria's collective and have a pack delivered to you. You can read about that here. Additionally, a four-pack of suppositories will set you back $44, while a two-pack goes for $22. However, a press release claims that these things start working within 20 minutes and the effects last "way into the evening," so you don't need many. But still, that's pretty pricey.
One last thing to note: none of this is FDA approved. So, insert at your own risk. But that's kind of always the case, isn't it?
Sign up here for our daily Thrillist email, and get your fix of the best in food/drink/fun.
Kara King is a News Writer at Thrillist and needs to test this out. Send news tips to news@thrillist.com and follow her at @karatillie.