You Can Now Stay Overnight in This Swedish Museum's Indoor 'Forest Room'
Fotografiska Stockholm just announced the new offering.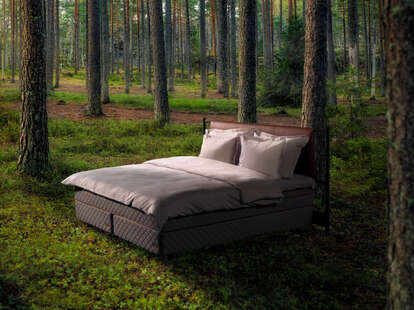 Photo by Peter Bülling, courtesy of Fotografiska
Photo by Peter Bülling, courtesy of Fotografiska
Getting through the dullness of winter can be exhausting if you live in a colder part of the planet, and many of us find ourselves daydreaming about springtime and blissful Sundays spent at the park. While actual spring might still be a faraway reality, Fotografiska Stockholm in Sweden is giving you the chance to dive deep into a recreation of it this February—and you can even spend the night.
The stunning Swedish museum, which also flaunts an NYC location, basically recreated spring in a box. As part of its new "In Bloom" exhibit, a celebration of nature and humans through photography, the museum created a "forest room" where guests can spend the night for a limited time.
Dubbed the Fotografiska "ForRest" Room, the pop-up hotel accommodation welcomes guests inside a room filled with lush vegetation where they can reconnect with nature, relax, and experience all the peaceful and rejuvenating effects. The experience launches on February 28 and it is only available for a limited time through March 2. According to Fotografiska, the reason for the end-of-February opening intentionally coincides with the time when our "desire for greenery is at its peak."
Only two guests at the time are allowed, and availability for overnight stay is limited. The cost is SEK 2,500 per night (roughly $240), and it includes a five-course meal as well as breakfast and entry to the "In Bloom" and other Fotografiska exhibits. While the pop-up hotel room is only available for three overnight stays, it will be open until April for daily visits.
For more information and to reserve your stay, you can visit this website.