Four Loko's Super-Hard Seltzer With 12% ABV Is Now Hitting Stores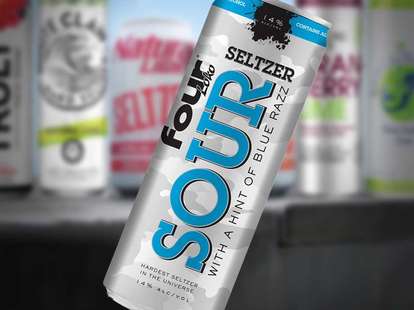 Four Loko dived into the hard seltzer business back in August with the unveiling of the hardest hard seltzer yet: a 14% ABV beverage that it touted as the "hardest seltzer in the universe." And whether you're ready or not, the drink -- albeit slightly less boozy -- is finally hitting store shelves. The company is dropping its first flavor, Black Cherry, nationwide on Wednesday, November 6.
Though Four Loko had previously teased a 2020 launch, fans were clear from the jump -- they didn't have that kind of patience. Four Loko listened, delivering ahead of schedule.
"When we first posted about it on Four Loko's social channels, we had no idea the response would be as massive as it was," co-CEO of parent company Phusion Projects, Jaisen Freeman, said per a report by AOL. The team decided on the early release to "give customers what they want," adding that it will boast "more flavor. More ABV. More value."
And while it's certainly boozier than your average White Claw (more on that in a sec), Four Loko did lower the percentage. When news first broke, the cans were advertised as 14%, but will now contain 12%. That's still pretty major though, considering similar spiked seltzers circle the 4.5 to 5% range. So if you were planning to throw back the Four Loko seltzers at the same rate as you would a Truly, I simply... wouldn't.
But why is Four Loko event bothering with hard seltzers? Well, it's because they're insanely popular now.
"Consumer interest in craft beer remains healthy, however, with a 2018 increase of +4.7%, and a continued rise in on-site consumption at domestic breweries," a IWSR US Beverage Alcohol Review (US BAR) report reads. "The popularity of alcohol seltzers has been a tremendous engine for growth in the RTD market."
Apparently, this is what everyone wants and Four Loko is delivering. And maybe then some.
h/tAOL
Sign up here for our daily Thrillist email and subscribe here for our YouTube channel to get your fix of the best in food/drink/fun.
Megan Schaltegger is a staff writer at Thrillist. Follow her @MegSchaltegger.