Facebook Is Sending Out Checks for Using Your Photos without Permission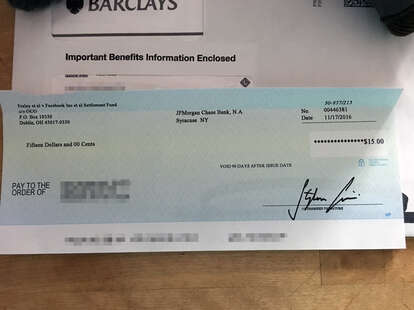 Ben Maljevec
Ben Maljevec

It isn't often that a social media behemoth like Facebook apologizes for screwing up. On the contrary, it's known for courting controversy and absolving itself of wrongdoing. But on Monday, some of the social network's 1.8 billion users received something peculiar in the mail from the company, which no doubt sparked curiosity: a $15 check.
The check, which is anything but another viral hoax, is marked with the return address of "Fraley v. Facebook Inc." That's the name of a class action lawsuit filed against Facebook in 2011, when it used certain user names and photos in sponsored posts without permission. Anyone included in the company's surreptitious campaign was able to opt into the suit, according to Law Newz, and in 2013, a judge ordered Facebook pay a $20 million settlement to amend the damage.
Now, that money is trickling down to Facebook users affected by the controversy. It's obviously not a lot of money -- more of a pittance, really -- for the company's shady maneuvering behind the backs of its customers. The payouts were sent on Thursday, November 17, after all appeals had been resolved.
Although probably a bit embarrassing, Facebook's latest quandary is anything but its worst problem. The company is still battling its fake news epidemic, with CEO Mark Zuckerberg outlining a plan to combat the issue last week.
Sign up here for our daily Thrillist email, and get your fix of the best in food/drink/fun.
Sam Blum is a News Staff Writer for Thrillist. He's also a martial arts and music nerd who appreciates a fine sandwich and cute dogs. Find his clips in The Guardian, Rolling Stone, The A.V. Club and Vice. He's on Twitter @Blumnessmonster.