France Is Canceling Its New 'Dry January' Initiative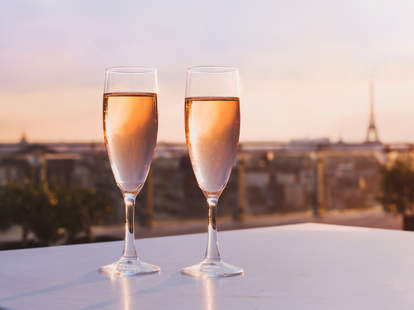 I've never been a huge proponent of the New Year's resolution. My philosophy? You can't break what you never make. But it's the Dry January folks that I really don't get. Why, after all that holiday stress, would you willingly forgo a glass of cabernet?
Apparently, France is on the same page. Despite government efforts to promote a nationally recognized Dry January, President Emmanuel Macron is reportedly cancelling the initiative. And honestly, it tracks. The guy's serious about wine. His palace boasts a 14,000-bottle wine cellar.
"The President assured us that there would be no Dry January," Chairman of the Champagne Winegrowers Association and co-Chairman of the Champagne Marketing Board Maxime Toubart said, per Food & Wine. "You can let the people know that there will be no 'Dry January,' he told us."
The national health agency Sante Publique France had initial plans for the 2020 sober campaign, The Times reports. But Health Minister Agnes Buzyn made it clear earlier this month they would delay until at least February. "[A] campaign is being developed... but that's not necessarily the format we'll decide on," Buzyn told Franceinfo Radio.
Per the Organization for Economic Cooperation and Development, France is a fan of the bottle -- the country is the third leading nation in alcohol consumption per capita. The Public Health Agency has also reported 41,000 alcohol-related deaths each year and has urged citizens to limit their intake -- two glasses a day and "not every day."
Here's my initiative: if you want to drink, drink. If you don't want to drink, don't drink. There. Problem solved.
h/t Food & Wine
Sign up here for our daily Thrillist email and subscribe here for our YouTube channel to get your fix of the best in food/drink/fun.