Some Dude Stole Frances McDormand's Oscar While She Was Busy Celebrating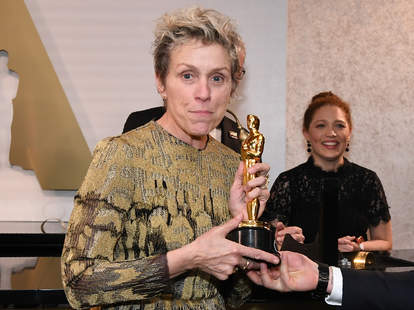 ANGELA WEISS/AFP/Getty Images
Frances McDormand's rousing acceptance speech for her Best Actress win is easily among the best moments of the 90th Academy Awards on Sunday night, but she'd probably prefer to forget about what happened while she was out celebrating afterwards. That's because her brand new golden Oscar was briefly stolen by a mysterious guest at one of the after parties, causing quite a stir in the heat of Hollywood's big night out.
Security at the Governors Ball are looking for this guy, who grabbed Frances McDormand's Oscar and ran out with it. Wolfgang Puck's photographer stopped him, got the Oscar back, and the guy disappeared back into the ball. Apparently Frances has said to let him go. #Oscars #Drama pic.twitter.com/5tlsx4Ulwt

— Cara Buckley (@caraNYT) March 5, 2018
While attending the Governors Ball after party, the star briefly set her award down while chatting, when the little golden guy was snatched by someone in the crowd, according to The New York Times' Cara Buckley. The incident quickly escalated into a full-blown whodunnit, with security scrambling to track it down while McDormand understandably freaked out. "McDormand was spotted crying emotionally outside the Governors Awards ball after giving up the search for the statuette on the premises, and departing with her husband, filmmaker Joel Coen," per a report by USA Today.
Thankfully, a photographer for Wolfgang Puck, famed chef and longtime caterer of the soiree, stopped the alleged thief with Oscar in hand before he could flee, and even snapped a photo of the him holding it up. There was no question it wasn't his, considering it's clearly engraved with McDormand's name. The photographer didn't restrain him, and incredibly, the guy was reportedly able to sneak back into the party.
In the end, McDormand and her Oscar were later reunited and her night didn't end as badly as it could have, as a representative for the actress made clear in an email to USA Today: "Fran and Oscar are happily reunited and are enjoying an In-N-Out burger together."
That In-N-Out must have put her in quite the forgiving mood, because McDormand allegedly didn't want to pursue the perpetrator, who was later arrested for felony grand theft after he was located, saying "let him go."
Let this be a reminder to all 3,072 ever winners out there: mind your Oscars, people!
Sign up here for our daily Thrillist email and subscribe here for our YouTube channel to get your fix of the best in food/drink/fun.