Frank's RedHot Just Made a Canned, Ready-To-Drink Spicy Bloody Mary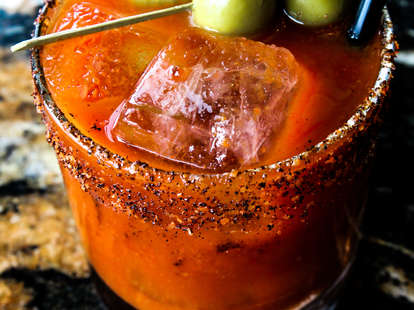 Shutterstock
Shutterstock
Frank's RedHot is the key to any good serving of buffalo wings. The heat, tang, and overall brightness of the sauce is exceptional on mac & cheese, in gumbos, and mixed into ranch. It's also a killer ingredient in spicy Blood Marys. So, it should come as no surprise that Frank's is officially launching a canned version of its own RedHot Bloody Mary.
The boozy cans clock in at 5% ABV and have all the traditional notes of a classic Bloody Mary: tomatoes, celery, lime juice, seasoning salt, Worcestershire, and -- of course -- a hearty dose of Frank's RedHot Original Cayenne hot sauce. You can purchase a 4-pack of the 12oz cans for roughly under $8. They're available where most beers are sold.
And if you're feeling extra fancy, we'd recommend emptying a can of this into a glass and stuffing it full of pickles, bacon, celery, and maybe a chicken wing tossed in Frank's. It's all part of a balanced breakfast.
Sign up here for our daily Thrillist email and subscribe here for our YouTube channel to get your fix of the best in food/drink/fun.
Kat Thompson is a staff writer at Thrillist. Follow her on Twitter @katthompsonn.