Frank's RedHot Is Searching for a Hand Model & You Could Win an NYC Trip for the Shoot
The competition kicks off Sunday, September 26 with an official winner announced on Sunday, October 17.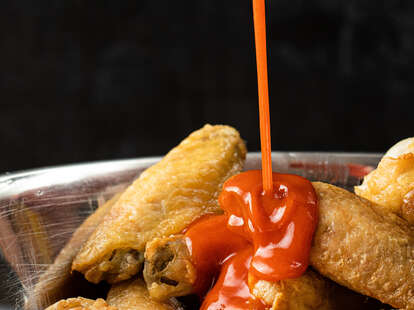 Courtesy of Frank's RedHot
If you've ever reached across the table for some hot sauce and thought, damn, I could do this for a living, you're in luck. Frank's RedHot is on the hunt for a hand model, and the winner will be named the official hand of Frank's for 2022, snagging a free trip to NYC and photoshoot in addition to the honor.
Touted for its heat-forward sauce blends, the condiment maker has tapped supermodel Coco Rocha as the official host. Kicking off Sunday, September 26, Frank's is asking fans to show off their skills in three hand modeling challenges on TikTok. The winner of each week will be announced on Rocha's page before the champ is crowned on Sunday, October 17.
Each winner of the week will score a basket of Frank's RedHot, but it's the last-standing finalist that'll become the official hand of the brand and head to NYC for the campaign shoot.
This sweepstakes isn't the only Frank's news as of late. In fact, the beloved hot sauce giant, known for its contribution to tailgate parties everywhere, created an innovation unlike anything we've seen from the brand before. Welcome the Crunchy Buffalo Chicken Roll, which is a spicy sushi concept that's wrapped in rice and nori and drizzled with Frank's RedHot.
"We are thrilled to join forces with such an iconic brand to provide both consumers and retailers with a new innovative sushi option," Dan Beem, CEO of Hissho Sushi, said in a press release. "Whether you are new to sushi or a seasoned chopstick veteran, our Frank's RedHot Crunchy Buffalo Chicken Roll serves the delicious, fiery and flavorful experience your tastebuds are searching for."
And hey, here's a thought, why not snag the sushi and use it for your hand modeling challenge?
Megan Schaltegger is a staff writer at Thrillist.