Here's How to Get Free Beer Just By Visiting Breweries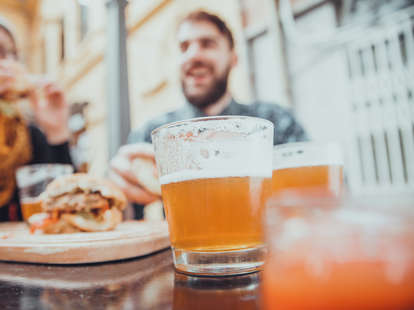 It's a craft beer lover's dream. You already enjoy telling anyone who will listen what you think of your neighborhood breweries. Now you can earn a little cheddar for those opinions you've given away for free.
PintPass launched a new version of its app on August 15 with a significant twist. (It went fully public on October 15, 2018.) The app will pay you to answer a handful of questions about the brewery you're visiting. Open the app when you're at a taproom, answer a couple questions about how you feel about the brewery, and the app will give you $2 to be spent at any brewery in the U.S. Do it a few times, and you've got enough for a free beer.
"We are paying you to go to a brewery in exchange for your feedback," PintPass founder and president Ryan Rickert tells Thrillist. "The feedback being things like, What beer did you have? Why did you choose this brewery over another? It's like five buttons that ask things about atmosphere, beers, location, would you refer a friend, how was your service. You complete that, boom, we drip two real American dollars into your PintPass account that you can accrue or use or text to a friend to gift them a beer."
Rickert says the company will thrive on transparency. Everyone is collecting your data, but PintPass wants to be clear about what it's doing. "We're being transparent and saying, we're using this data to give to breweries and the Brewer's Association, but it's not your name, it's not your phone number, it's not your email," he says. "It's for the purposes of bettering your craft beer experiences. We can let your local watering hole know they have a hiring problem or that their music is too loud."
The business model is you tell breweries what they're doing right and wrong, and PintPass sells that and maybe a little advertising space on the app to make sure the free beers keep coming. Some similar programs, like Secret Hopper, might feel like there's a higher barrier to entry. But PintPass wants users of all kinds from homebrewers to people who might usually order a cocktail. You don't need to be a Cicerone to let a local brewery know the bar smells like a diaper.
It's a straightforward app, but Rickert says the company plans on rolling out other features in the future. That includes rewarding superusers. Currently, you can review up to four breweries per calendar month, which, depending on where you live, could result in a free beer or two. If you're providing good feedback and always hitting the max, a future version might, as an example, allow you to start going to five breweries per month. Basically, you're getting more beer for drinking beer already. Rickert wants that to be the draw. He says he wanted to build an app he'd use, that makes you ask, "Why wouldn't you have this app?"
Sign up here for our daily Thrillist email and subscribe here for our YouTube channel to get your fix of the best in food/drink/fun.

Dustin Nelson is a News Writer with Thrillist. He holds a Guinness World Record but has never met the fingernail lady. Follow him @dlukenelson.