Chick-fil-A Is Giving Out Free Food Today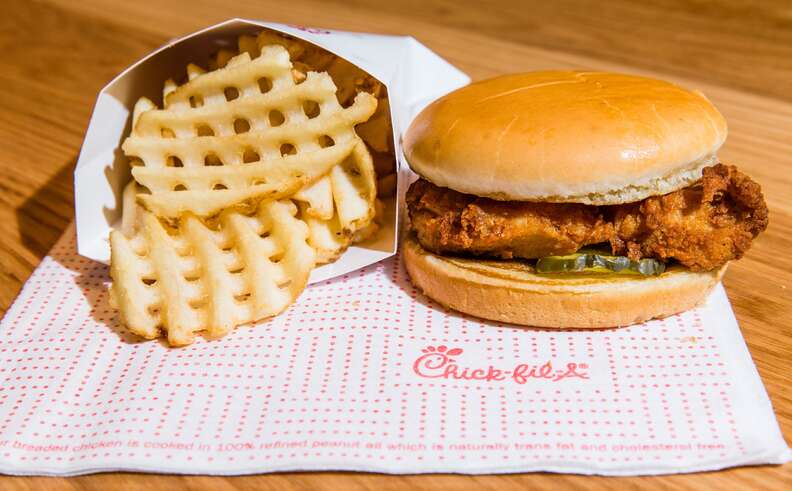 Cole Saladino/Thrillist
Cole Saladino/Thrillist
There's nothing quite like the satisfaction that comes from scoring free food, and that's especially true when you don't even have to lie about it being your birthday to do so. That's why this should come as great news to almost everyone: Chick-fil-A is handing out tons of free food all day on Tuesday, July 10, in honor of its annual Cow Appreciation Day.
The beloved fried chicken sandwich chain, which has earned the title of America's favorite fast-food restaurant for three years running, will be handing out free entrees to anyone who stops by a Chick-fil-A location between opening and 7pm on July 10. However, there is a slight catch: in order to get in on the action, you have to show up wearing some sort of cow-themed attire.
This year marks the chain's 13th annual Cow Appreciation Day, which it celebrates by encouraging customers to stop by dressed up like its official "Eat Mor Chikin" cow mascots in exchange for a free meal. However, you don't necessarily have to don a full-on cow onesie (unless you're into that) You simply need to wear some sort "cow-like" element -- as basic as a cow-print bandana -- and you'll get your pick of a free entree of your choice, including both breakfast and lunch/dinner items. Unfortunately, the promotion only applies to entrees, so if you're jonesing for some waffle fries, you'll have to use your own moola (sorry). Kids wearing any sort of cow attire will get a free Kid's Meal.
And just in case you're coming up short on cow-themed garb ideas, they've helpfully put together some memorable examples from last year to serve as inspiration. For example, you could fashion a basic cow mask out of a paper plate, or pin some black "spots" to a white t-shirt. Seriously, you can get as simple or elaborate as you'd like -- either way you'll be getting free food.
Sign up here for our daily Thrillist email and subscribe here for our YouTube channel to get your fix of the best in food/drink/fun.