Chipotle Is Giving Away Free Orders of Chips with Guac or Queso
Cole Saladino/Thrillist
Cole Saladino/Thrillist
After months of promotions for free burritos, Chipotle's strategy of luring you into its restaurants with free food is anything but new (not that we're complaining or anything). However, the burrito empire's latest deal -- for a free side of chips with guac or queso -- involves a crucial new step: downloading its new iPhone app.
Here's the deal:
In an effort to earn a place on your phone's home screen, Chipotle is offering a free order of chips and guac or chips and queso, when you download its new iPhone app (sorry, Android folks) and create an account between now and December 1. The deal, which appears in the app's new Offers section, can only be applied to your first order for an entree, such as a burrito, burrito bowl, salad, or order of tacos before it expires on December 21, according to the fine print. You just have to decide if you want to go with the chain's seemingly polarizing, all-natural queso dip or its reliably good guacamole.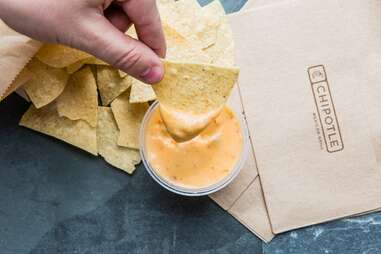 Of course, a free side of chips and guac with a full-price entree may not be worth going out of your way to get, but it could be a nice perk if you're already planning to grab a burrito bowl for lunch and don't mind adding yet another app to your cluttered phone. Then again, the app does come with some useful new features in addition to the new Offers section for free food deals, including a way to save and quickly re-order your usual orders and use Apple Pay at checkout. Having such easy access to burritos could end up being kind of dangerous (for your wallet), though.
All said, good luck choosing between the time-tested standby, guacamole, and the interesting newcomer, queso. Either way, we highly recommend smearing some of your dip of choice on your burrito as you eat.
Sign up here for our daily Thrillist email and subscribe here for our YouTube channel to get your fix of the best in food/drink/fun.

Tony Merevick is Senior News Editor at Thrillist and still needs to try queso on a burrito or burrito bowl. Send news tips to news@thrillist.com and follow him on Twitter @tonymerevick.