Chipotle Is Giving Away Free Burritos Through a New Music Promotion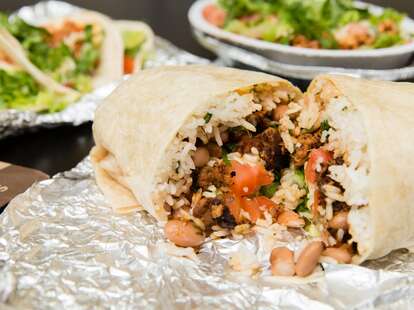 Unless you literally sing your burrito order to your local Chipotle workers (please don't), it's safe to say there's nothing particularly musical about your lunch besides the rhythmic chewing noises you end up making. But that's about to change now that the chain has teamed up with hip-hop legend RZA to create a new web app that lets you make actual music with your order. Best of all, you get free food out of it.
Chipotle launched the "immersive" musical experience, dubbed SAVOR.WAVS, on Wednesday morning, complete with an elaborate teaser video featuring the multi-platinum artist and Wu-Tang Clan creator:
Basically, the interactive website lets you compose a song based on your go-to Chipotle burrito, burrito bowl, tacos, or salad order -- just by choosing the ingredients as if you were ordering one online. Each ingredient you choose adds a unique sound composed by RZA, resulting in a customized flavor symphony and colorful visual experience for any possible ingredient combination on the menu. For example, avocado is represented by the viola, which when added with the instruments representing other ingredients used to make guacamole, creates a melody that's used in the song. We recommend headphones for this.
The aforementioned free food deal comes at the very end. Once you've tapped in your order and listened to the song paired with the visuals (about 45 seconds), you'll end up on a form where you can enter in your contact info to receive a one-time buy-one-get-one (BOGO) deal for burritos, burrito bowls, tacos, and salads. You'll get the digital coupon a few seconds after submitting your info. According to the official rules page, the deal is good through August 31. Chipotle is giving away 4,250,000 of the coupons.
As you may have guessed by now, the whole experience is meant to highlight Chipotle's additive-free menu of just 51 ingredients total. Of course, the free food aspect of the promotion isn't entirely free since you need to buy one entree to get the other one, but hey, you're getting some damn good music out the deal, too. Your chicken burrito bowl has never sounded better.
Sign up here for our daily Thrillist email and subscribe here for our YouTube channel to get your fix of the best in food/drink/fun.

Tony Merevick is Senior News Editor at Thrillist and needs more burrito bowls in his life. Send news tips to news@thrillist.com and follow him on Twitter @tonymerevick.