This Chipotle Deal Gets You a Free Burrito on Friday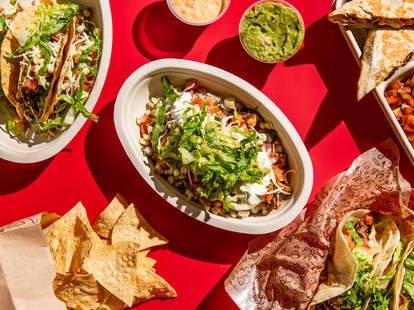 I'm not much of a hockey fan (I know absolutely nothing and can name drop a whopping two players), but I'm about to crowdsource every single person I know for a jersey to borrow. On Friday, February 21, in honor of Hockey Week Across America, Chipotle is offering buy one, get one (BOGO) entrees and all you have to do is show up repping your team. 
The promo, which is good for burritos, salads, bowls, even kid's meals, also coincides with the 40th anniversary of the US hockey team's triumphant win against the Soviet Union at the 1980 Winter Olympics, Chew Boom reports. There is, unfortunately, a limit on how many you can order. You can claim up to 10 free menu items per check -- as long as you're wearing that hockey jersey -- and if you do the math here, that's 20 entrees total. 
The burrito slinger has also partnered with the nation's top players for an exclusive menu of bowls. Available exclusively online and through the Chipotle app on February 23, you can get the favorites of Charlie McAvoy, Hilary Knight, Jack Hughes, and Kendall Coyne Schofield, so you can eat like the greats.
Here's the special menu: 
Charlie McAvoy Bowl: White rice, black beans, chicken, fresh tomato salsa, tomatillo green-chili salsa, cheese, lettuce, and guac.
Hilary Knight Burrito: Fajita veggies, brown rice, pinto beans, tomatillo green-chili salsa, cheese, and guac.
Jack Hughes Bowl: Brown rice, steak, black beans, cheese, lettuce, vinaigrette.
Kendall Coyne Schofield Bowl: White rice, chicken, fresh tomato salsa, sour cream, lettuce, and guac.
Sign up here for our daily Thrillist email and subscribe here for our YouTube channel to get your fix of the best in food/drink/fun.
Megan Schaltegger is a staff writer at Thrillist. Follow her @MegSchaltegger.